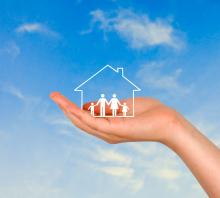 For one year, my wife and I are living 2,700 miles apart.
She lives in a one-bedroom apartment here, south of San Francisco. Each weekday she walks two blocks to the home of our middle son and his wife, where she cares for their 9-month-old son.
"Granny nanny" is what they call this phenomenon. Once maternity and paternity leaves expire, grandparents across the country are moving close to their adult children, maybe into their homes, to provide child care so both parents can pursue their careers.
A six-hour plane ride away, I am back in our Manhattan apartment, where our youngest son, age 23, is living at home until he lands a job in the worst job-finding environment since the Great Depression.
Our oldest son, meanwhile, is adapting his country house to become a multigenerational household next year, when my wife returns east. I have already had a taste of caring for their 8-month-old daughter, and it is wonderful.
It seems we have joined a growing trend toward sharing living space: three generations (grandparents, parents and children) or two generations (parents and adult children).