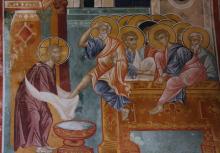 As we walk with Jesus ever closer to Good Friday, we recognize today as Maundy Thursday, commemorating the day that Jesus celebrated his last Passover meal — the Last Supper — with his disciples and washed their feet. Later that night, he would go with them to the Garden of Gethsemane, to wrestled with his humanity and the mission God the Father had called him to — to suffer and die on the cross at Golgatha the next day. Jesus asks his disciples to stay awake with him, to keep him company and join him in prayer. But they fall asleep, leaving Jesus alone in his dark night of the soul.
This is my body ... broken for you.
We've compiled a playlist of songs inspired by or that speak in some way to the Holy Week journey that brings us to Maundy Thursday and the great mandate from which the day takes its name: "If I, the Master and Teacher, have washed your feet, you must now wash each other's feet."