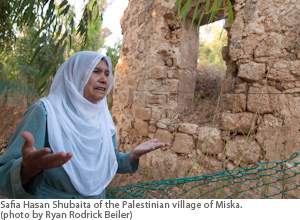 When President Obama was giving his speech in Cairo, I was just across the Red Sea in Aqaba, Jordan, and caught a glimpse on a corner store TV, the translation making it hard to hear his words. Earlier I was in Lebanon, two weeks before today's election results in which the March 14 Alliance defeated Hezbollah's March 8 Alliance. I was in Israel and Palestine the following week, days before George Mitchell travels there with the goal of "immediate" peace talks.
I've been in the Middle East for three weeks now, about half-way through a sabbatical from my work as Web Editor for Sojourners, doing photojournalism for two different NGOs in the region. I leave for Syria on Wednesday, and may be there at the same time Mitchell travels there. With these world events swirling about me, what profound insight does my proximity offer into these political machinations? To be honest, not much. Mostly I've been off the news grid, visiting with the average citizens whose lives are buffeted by these political storms, but who don't have much say in them.
My first two weeks focused on grassroots peace building efforts, and many of my contacts complained that government leadership was a major part of the problem, not the solution. As my boss back in D.C. likes to say, when politics are broken, grassroots social movements rise up to change them. In these desert regions, the grassroots struggle to survive in what has always been a harsh political climate. But there are stories of hope. And if anything, the one insight I have gained recently is the reminder that stories can be more powerful than politics when it comes to creating real change.
One example is the organization Zochrot. The power of Zochrot's work lies not in making political statements, but in taking Israelis to visit sites of former Palestinian villages, bringing along original Palestinian residents, and listening to the stories of their lives.
We visited one such village called Miska, where all that remains are two walls of a crumbling mosque, now surrounded by Israeli farmland. We went there with an elderly former resident who told how she once was neighbors and playmates with Jews who lived in the area before World War II. But in 1948, as the new Israeli military established control in the region, they forced her family to flee. Those friendships with Jews helped her family later, however, when they were about to be displaced yet again. The head of a Jewish family they had known had become a high-ranking military officer, and was able to get them permission to stay in their new village rather than be forced out yet again.
Stories like these are important, and not just because they reveal a history that is actively repressed, including recent efforts by Israeli lawmakers to punish observance of the Nakba with up to three years of imprisonment. These stories also offer evidence that coexistence between Arabs and Jews is neither impossible nor without precedent.
During my time in Israel and Palestine, I stayed in a guesthouse on the Mount of Olives -- so I took several walks through olive groves, including the Garden of Gethsemane, and my favorite site from previous trips, Dominus Flevit ("The Lord Wept") Chapel. More than many other sites where competing traditions dull any sense of immediacy, the words of Jesus commemorated at Dominus Flevit still pierce my heart:
As he came near and saw the city, he wept over it, saying, "If you, even you, had only recognized on this day the things that make for peace! But now they are hidden from your eyes." (Luke 19:41-42)
My prayer continues to be that opposing sides of these conflicts will be willing to listen to each other's stories, so that the things that make for peace will not remain hidden.
Ryan Rodrick Beiler is the Web Editor for Sojourners. He is currently on a five week sabbatical in the Middle East, where he is taking photographs for Mennonite Central Committee and Questscope.
Got something to say about what you're reading? We value your feedback!