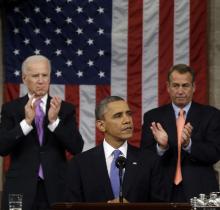 There is a tradition in the black church named "call and response." It's simply the experience of the preacher "calling" and the congregation "responding." I've always loved it. When you're preaching in a black church, and the congregants begin to actively and vocally respond, your sermon can actually get better, stronger, deeper, and more powerful than it might have been if everyone just sat there. Sermons get interactive. Congregations can be inspired by the preacher — and the other way around. Ideas grow, get taken further, and even develop during and after the sermon. And it can make things change.
After his first year in office, I sent a letter to President Barack Obama humbly suggesting he needed "the political equivalent of the black church's call and response." Just talking to and in Washington was never going to get important things done. Washington just sits there and mostly makes sure that things don't change — and that the special interests that buy, shape, and control this city usually have their way. (That private letter to the president will be published for the first time in my new book about the common good coming out in April.)
I recalled something Obama said right after the 2008 election — that he would need "the wind of a movement at my back" to get anything really important done. He would have to go over the heads of Washington, to speak directly to the people that had elected him and also those who didn't. He would have to have public debates about the common good and not just debate in Washington. 
I saw him do that in this week's State of the Union speech.