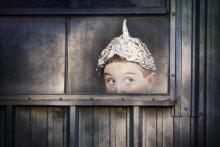 How does this kind of mentality take hold of a state of nearly 30 million, at least to the point that the governor himself would take official action?
One word: fear. Actually two words: fear and ignorance.
Though it comes off as cartoonish and ridiculous to the typical onlooker, fear and ignorance are, in fact, powerful tools. And using fear based on a broadly shared perception — regardless of actual evidence — is something all too familiar to modern-day Christianity in the United States as well. And the reason it hangs around like heartburn after a double bean burrito is because it works.
Here's how.