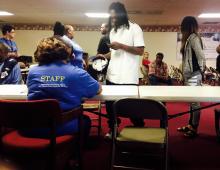 The first people that fugitives encountered when they surrendered themselves on a humid September weekend weren't cops, judges, marshals, or anyone else associated with the criminal justice system.
They were met by a phalanx of smiling, middle-aged church ladies, their vivid blue Galilee Missionary Baptist T-shirts unmistakable under the bright skies, smiling and holding open the door. Two other church volunteers collected belts and keys and sent the visitors through a metal detector.
And then they met Veda Gooch, a Galilee member standing on the other side, quick with a guiding touch on the arm or even a hug if they needed it.
"Y'all here to sign up?" she asked quietly.