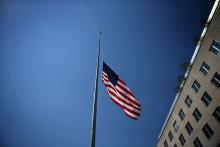 Muslim Americans condemned violence in Egypt and Libya that left four Americans dead, but remain concerned that the deaths could rekindle anti-Muslim sentiment just as post-9/11 resentment was starting to ebb.
U.S. Ambassador to Libya Christopher Stevens and three embassy workers were killed on Tuesday when fundamentalist protestors attacked the U.S. consulate in Benghazi, Libya, in response to a low-budget film that attacks Islam's Prophet Muhammad, reportedly made by an Israeli real estate developer who lives in California. 
Imam Talal Eid, the Islamic chaplain at Brandeis University near Boston and a former member of the U.S. Commission on International Religious Freedom, predicted the violence would lead to "more resentment" against Muslims, who he criticized for not doing enough against terrorism.