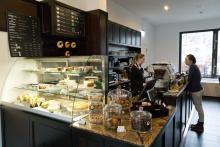 In Cafe Elfenbein, which opened last year in a trendy Berlin neighborhood, two businessmen wearing yarmulkes — Jewish skullcaps — chat away.
The aroma of freshly brewed coffee and homemade rugelach pastry fills the shop, where a rabbi has certified that all its food is kosher.
The hip addition to the city points to a trend obscured by rising anti-Semitism and terror attacks in France and Denmark that have alienated Jews. In central and Eastern Europe, Jewish life is thriving.
One major reason is that a young and more confident generation is shaping a new Jewish identity.
"Jewish life is flourishing in Berlin and the rest of the country," said Jutta Wagemann, spokeswoman for the Central Council of Jews in Germany.
The Jewish community in Germany remains small, about 200,000 out of 80 million people. It has grown significantly from its postwar population of 37,000 in 1950 because of immigration from the former Soviet Union. The community is putting its stamp these days on the country's cultural landscape.
In the East German city of Cottbus, an area known for right-wing extremists, a disused church was recently turned into a synagogue, providing space for the 460 members of the Jewish-Russian community.