Melody J. Wachsmuth is a mission researcher in the Balkans, based in Osijek, Croatia.
Posts By This Author
An Outburst of Roma Pentecostalism
04-25-2018
Roma Christians testify that a new identity—being a child of God—emboldens a new confidence in being Roma.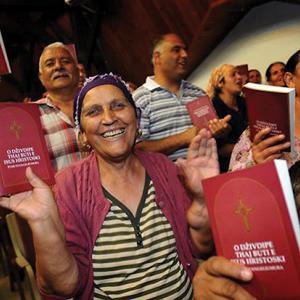 Excited and nervous on his first day of high school in Leskovac, Serbia, Saša Bakic waited his turn to introduce himself. After he said his name, his new teacher stopped him: "Are you Roma?" she asked. "Let's make a deal—if you don't skip school and stay quiet in class, I will pass you with a D." Stunned and humiliated, Saša tried to protest amidst the class's laughter, only to be told, "You are all the same."
The history of the Roma—Europe's largest minority—is pockmarked with stories of forced assimilation, enslavement, and even attempted genocide during WWII. Today, despite efforts of state and EU policy toward integration, many Roma in Eastern Europe are still mired in systemic poverty and social stigma.
The steady growth of Roma Pentecostalism in Europe, however, is another narrative challenging these sobering realities.
When Saša began attending church at age 8, he received a message of acceptance and encouragement. "The children's sermons acknowledged that we were outcasts, but that we should love rather than hate," he remembered, now working to complete his bachelor's in theology. "The church told us, 'Let's make a better image of our community!'"