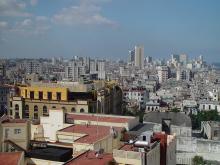 Alan Gross, the Jewish international aid worker held on alleged spy charges in Cuba for five years, was freed on Dec. 17 — what some are calling a Hanukkah miracle on the first day of the holiday that celebrates religious freedom.
Gross, 65, of Maryland, has always claimed that he only went to Cuba to bring communications equipment to the small Jewish community left in Havana. However, the Castro government said he was part of a spy network attempting to set up a secret network for Cuban Jews. Gross was serving a 15-year sentence.
President Obama chose the Dec. 17 release as a springboard to announce a massive historic "normalization" of U.S.-Cuba relations. Meantime, in Cuba, President Raul Castro, who held a press conference in Havana at noon, was expected to release 53 Cuban political prisoners.
Obama particularly credited the "moral example of Pope Francis," who actively encouraged Gross' release. Francis, who held private meetings at the Vatican to secure the deal, praised the move, sending "his warm congratulations for the historic decision taken by the Governments of the United States of America and Cuba to establish diplomatic relations, with the aim of overcoming, in the interest of the citizens of both countries, the difficulties which have marked their recent history."