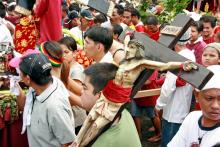 Belief in God is slowly declining in most countries around the world, according to a new poll, but the truest of the true believers can still be found in developing countries and Catholic societies.
The "Beliefs about God Across Time and Countries" report, released Wednesday (April 18) by researchers at the University of Chicago, found the Philippines to be the country with the highest belief, where 94 percent of Filipinos said they were strong believers who had always believed.
At the opposite end, at just 13 percent, was the former East Germany.