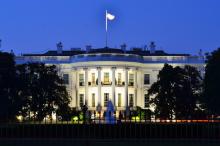 A meeting today of faith leaders with the president on immigration reform opened and closed with prayer.
This was my prayer at the end:
Thank you Lord, for this circle of leaders around the table and how you have brought us together to help welcome the stranger in our midst — to fix this broken immigration system that breaks families and lives.
Thank you for the leadership of Barack Obama in making comprehensive immigration reform such a high priority in these critical months ahead. Guide and direct him to find a genuine bipartisan political path to accomplish something so important that has been needed for so long. We thank you for both the Republicans and Democrats who are coming together to make that possible.
[Continued]