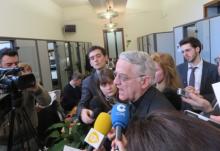 The Vatican issued an urgent appeal Thursday for the release of more than 200 Nigerian schoolgirls kidnapped by the Islamist militant group Boko Haram.
The abduction of the young girls three weeks ago was the latest instance of the "horrible forms of violence" for which the militant Islamic group has become known in Nigeria, said the Vatican's chief spokesman, the Rev. Federico Lombardi.
"The denial of any kind of respect for life and for the dignity of human beings, even the most innocent, vulnerable and defenseless, calls for the strongest condemnation," Lombardi said.
He added that the kidnappings aroused the most heartfelt feelings of compassion for the victims and a sense of horror for the physical and spiritual suffering and the incredible humiliation they have suffered.