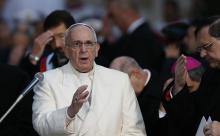 One reason the cardinals gathered in the Sistine Chapel elected Jorge Mario Bergoglio as Pope Francis two years ago on March 13 was a brief but powerful speech the Argentine cardinal made shortly before the conclave in which he denounced the "theological narcissism" of the Roman Catholic Church.
The church, Francis declared, was "sick" because it was closed in on itself and needed to go out "to the peripheries" and risk all by accompanying the shunned and marginalized.
In these past two years, Francis' efforts to do just that have captivated the public's imagination and inspired a wide swath of the Catholic spectrum with visions of a newly resurgent faith unshackled from years of scandal and stagnation.
But there was another big reason the cardinals voted for Bergoglio: They thought the Jesuit archbishop of Buenos Aires was the one man with the administrative chops to finally rein in the dysfunctional papal bureaucracy, known as the Roman Curia, that was often at the root of the Catholic crisis.