bush
Rev. Jim Wallis and former Bush speechwriter Michael Gerson have endorsed a bipartisan approach to fighting poverty.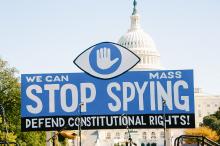 I was encouraged by the findings of U.S. District Court Judge Richard Leon on Monday who granted an injunction to plaintiffs Larry Klayman and Charles Strange that will temporarily stop the National Security Agency from continuing their data-gathering program that mines information from our mobile phone calls.
The injunction was issued because the judge believes that Klayman and Strange likely will win their lawsuit against the federal government, claiming that the phone record collection practice is an unconstitutional violation of personal privacy.
The whole storyline is made that much more dramatic since the otherwise secret program was leaked to the public by former NSA contract Edward Snowden, who is now on the run, seeking asylum in exchange for shared intelligence. And while some perceive Snowden as a hero of individual liberty, others vilify him as an enemy of the United States, much like any other terrorist. Interestingly, people's opinions about the NSA — and, frankly, the Obama administration and the government as a whole — diverge in similar ways.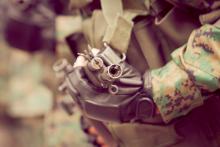 "Blessed are the peacemakers, for they shall be called sons [and daughters] of God." 
Matthew 5: 9 from the Beatitudes
I grew up watching casualty reports from the Vietnam War on TV. My Uncle Bill, a lieutenant colonel in the Air Force, was serving there. My family watched the news every evening to learn about the latest casualty reports. I was too young to understand the anxiety of my parents, but I felt the tension while Uncle Bill was deployed.
As an adult, it's been a different story. I understand and experience things more fully and have an emotional connection to what I see and hear. That has been true for the last decade. Ten years ago, the Iraq War began. Ten years marked by conflict, violence, and loss. Ten years of debate about why we went to war and why we remained. Ten years dealing with death and injury – 4,488 U.S. deaths and 32,321 soldiers coming home with significant injuries. Suicide rates of soldiers are so high it is impossible to ignore – some while in Iraq and others after returning home. Traumatic brain injuries, grieving families, moral injury, and multiple limb loss are just a few of the constant reminders of the tremendous costs of war. The toll on the nation's economy has been long lasting as well. The jobless rate among veterans is staggeringly high. 
The human toll has been significant. But military personnel aren't the only causalities of this war. Numbers vary, but statistics tell us more than 100,000 Iraqi citizens also have been killed and nearly 3 million have been displaced.
These figures cannot be ignored. And they are the results of war.