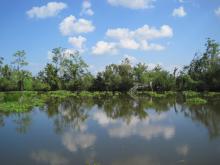 As the Creation Care campaign associate at Sojourners, my job is to get people thinking about God's call for us to care about the creation. Usually, I do that from behind a desk in Washington, D.C., but recently I got to do it from a boat out on the bayou in Louisiana, in a tiny community that has been hit by eight disasters in eight years (seven hurricanes and the Deepwater Horizon oil spill). I took 100 people out to the town of Jean Lafitte, less than an hour from New Orleans, to hear from people who live on the front lines of climate change.
One of the obstacles to igniting a passion about climate change is that it feels so abstract; it feels like a future problem, a global problem. But it's really a here and now problem. We took folks out on the Louisiana bayou to meet with those who are living in the midst of climate change – people who don't think of themselves as environmentalists, but who can bear witness to the impact that climate change and our use of dirty energy have had on their lives, personally.
The town of Jean Lafitte is an old and diverse town, a close-knit community where faith is important to many people, including the mayor. It's a town that sounds a lot like the early Christian church. We were told that homelessness is not a problem there – if your neighbor loses her home, why wouldn't you take her in? We were told that when the state government showed up two weeks after Hurricane Katrina, the town had recovered so quickly that the government thought the hurricane hadn't hit them. This community comes together, and because it knows how to survive, it often gets forgotten by government responders and by oil companies like BP.