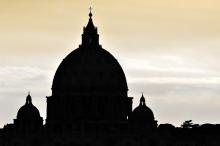 Pope Benedict XVI's sudden announcement that he would resign by the end of the month took the church and the world by surprise, in large part because it was a move without precedent in the modern world.
But what comes next is as old and familiar as the papacy itself: Speculating about who will succeed to the Throne of St. Peter.
Indeed, within months of Benedict's own election in 2005, church insiders and online oddsmakers were trying to figure out who might be next, given that Benedict — now 85 — was already aging,  increasingly frail, and had himself declared that he did not expect his reign to be a long one.
So what will happen when the world's cardinals gather before the splendor of Michelangelo's Last Judgment fresco in the Sistine Chapel to elect a new pope? Who are the "papabile," as the Italians say, the "pope-able" cardinals?
Will the conclave make the epochal break with the European monopoly and pick a cardinal from Latin America or Africa? The Catholic Church is booming in the Southern Hemisphere, as opposed to Europe and North America, where it is on life-support or barely treading water.