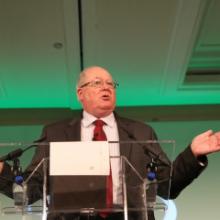 After organizers agreed to allow a gay and lesbian group to march, William Donohue of the Catholic League announced that his organization would not take part in next year's popular celebration of Irish-American culture, New York's St. Patrick's Day parade.
Donohue said the parade organizers had "betrayed" him by promising that an anti-abortion group would be allowed to participate if a gay group were given a permit. But he claimed the committee later reversed itself and said abortion opponents would not be marching next year.
"They not only told me one thing, and did another, they decided to include a gay group that is neither Catholic nor Irish while stiffing pro-life Catholics," Donohue said in a statement issued Sept. 11. "This is as stunning as it is indefensible."
The parade organizers had sent mixed signals about whether an anti-abortion group would be marching in the parade.