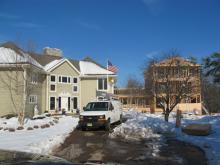 Every year, without fail, Joe Ferri writes a $100 check to the Archdiocese of Newark for the Archbishop's Annual Appeal, a fundraising drive that benefits a variety of religious causes.
This year, Ferri left the empty envelope on his pew at St. Thomas the Apostle Church in Bloomfield. He's done writing checks.
"If this is the only way I can be heard, so be it," said Ferri, 70. "I'm disgusted. The archdiocese is not going to get another penny out of me."
Two weeks after The Star-Ledger disclosed that Archbishop John J. Myers is building a 3,000-square-foot addition on the expansive home where he will spend his retirement, it appears the work will cost the archdiocese far more than the $500,000 allotted for construction.
Parishioners, infuriated by what they call a tone-deaf show of excess at a time when Catholic schools are closing and when the pope has called on bishops to shed the trappings of luxury, say they're cutting off contributions entirely or sharply curtailing them.