Atticus Finch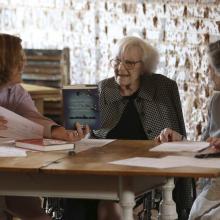 Harper Lee's "new" book Go Set a Watchman is infused with religious life and Christian moral argument, from its title to its final words.
It's also a book with splashes of humor, enough Victorian poetry references to send readers scrambling for a Norton Anthology, and Bible allusions as the narrator of both novels, Jean Louise "Scout" Finch, grows up to own her own life.
Examples (spoiler alert!) range from small moments to an epic showdown over race, justice, and sin in which Scout's father, the saintly Atticus Finch of Lee's To Kill a Mockingbird, is revealed, as David Gushee writes, as a "polite racist."
September 30 - October 6 was Banned Books Week, an annual event that celebrates the freedom to read.
Surprisingly, Harper Lee's novel To Kill A Mockingbird makes the list of frequently banned books.
To Kill A Mockingbird changed my life.
"You never really understand a person until you consider things from his point of view," says Harper Lee through Atticus, "until you climb into his skin and walk around in it."
How much have I learned as a teacher and a writer by thinking about every person I meet with that consideration?