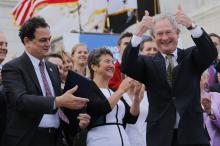 Add one more to the table of Democratic contenders for president in 2016. On June 3 Lincoln Chafee, the Republican-turned-Independent-turned-Democrat who served as both governor and senator of Rhode Island, announced he is in the running. Here are five faith facts about this very dark horse (who used to horseshoe for a living).
1. He's Episcopalian.
Chafee was raised in the church and his positions on many of the issues largely mirror that of many Episcopalians, one of the more liberal Christian denominations. Chafee supports marriage equality, embryonic stem-cell research, and reproductive choice for women, and he opposes the death penalty.