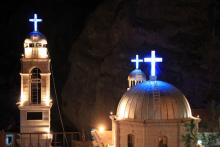 As Syrian President Bashar al-Assad uses chemical weapons at the outskirts of Damascus and President Obama mulls a U.S. military response, some theologians hope for an alarming endgame to the 30-month-long Syrian conflict.
For these Christians and Muslim, the civil war in Syria heralds nothing less than the Second Coming of Jesus Christ.
Before you label the premise as a conspiracy theory, consider that there are a number of Muslim videos and several Christian websites — not to mention conservative talk radio shows — all making promoting versions of this unfortunate connection. And that's wrong.