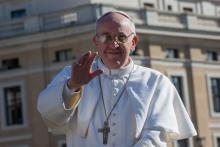 He has been Pope Francis for less than a month, but the keep-it-simple prelate from Argentina is a wow with American Catholics — at least for now.
The tables may turn on Francis once media attention moves from his no-fuss style to his substantive actions, said a Vatican expert Wednesday.
The former archbishop of Buenos Aires has an 84 percent favorable rating among U.S. Catholics, including 43 percent who hold a very favorable view of him, according to a new survey by the Pew Forum on Religion & Public Life.