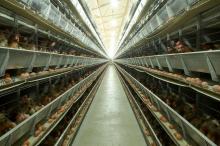 Barrett Duke didn't grow up with pets and never gave the welfare of animals any serious thought. Then he met Rusty — the golden retriever who stole his heart.
Duke discovered what most animal lovers know: that Rusty was more than just a random assortment of cells wrapped in fur. He had a personality and intelligence and a will that was all his own. When he lost Rusty to cancer, it was like losing a family member.
"Rusty was such an incredible animal, it changed my perspective on God's creation," Duke told me.