IN MANY WAYS, the modern animal-welfare movement was birthed by evangelicalism.
Given current-day categories and political alignments, this history is surprising. But evangelicalism's concern for animal welfare began with John Wesley, who many consider the father of evangelicalism. Wesley offered weighty words about animals and their treatment by humans. In his sermon "The General Deliverance," for example, Wesley laments the plight of animals subjected to human cruelty:
And what a dreadful difference is there, between what they suffer from their fellow-brutes, and what they suffer from the tyrant man! The lion, the tiger, or the shark, gives them pain from mere necessity, in order to prolong their own life; and puts them out of their pain at once: But the human shark, without any such necessity, torments them of his free choice; and perhaps continues their lingering pain till, after months or years, death signs their release.
In Wesley's lifetime, which spanned most of the 18th century, animals played a central and visible role in most people's lives. Animals were sources of food and clothing and means of transportation. Sadly, animals were also a common source of entertainment in various forms of brutal blood sports—including bull and bear baiting, dog fighting, and cock throwing. As plentiful paintings, literature, sermons, and tracts from the age show, cruelty to animals was as pervasive as the animals themselves.
The general understanding of animals at the time was gravely influenced by a Cartesian, mechanistic view of the world. The same disciples of the Enlightenment who envisioned God as a distant watchmaker also viewed the "lower creatures" as mere machines. Well into the 19th century, animals were viewed under the law, according to the Animal Legal and Historical Center at Michigan State University, "as items of personal property not much different than a shovel or plow."
Read the Full Article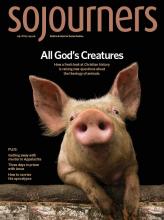 ​You've reached the end of our free magazine preview. For full digital access to Sojourners articles for as little as $3.95, please subscribe now. Your subscription allows us to pay authors fairly for their terrific work!
Already a subscriber?
Login