al-assad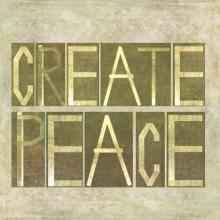 As the United States prepares to "officially" become involved in the Syrian war, Christian pacifism has reemerged as a much-discussed and relevant topic. Unfortunately, the concept has been somewhat misrepresented, undervalued, and often downright demonized within evangelical communities.
Critics often assume Christian Pacifism is some sort of radical political movement associated with marijuana-smoking hippies who are anti-government conspiracy theorists. To make matters worse, pop-culture (and much of Christian culture) has made pacifism seem, well, passive — as if pacifists are unpatriotic and un-American heretics who refuse to enlist in the military and avoid physical confrontations at all costs. They are characterized and perceived as weak, scared, and gutless.
In reality, the beliefs that form Christian pacifism are spiritual and scripturally founded around the life of Christ. And whether you agree with the theology, it's hard to passively dismiss the Biblical argument for pacifism as some sort of crazy mumbo-jumbo.
One year after Syrian President Bashar al-Assad's April 2011 crack down on civilian protests against his regime's torture of students who had put up anti-government graffiti, the U.S. and the world are still figuring out what to do about it.
On March 21 the United Nations Security Council announced that it backed a six-point peace plan put forward by former UN General Secretary Kofi Annan. By March 27, Annan reported that al-Assad had accepted the cease-fire plan that will take effect April 10. But even as al-Assad met with Annan, reports of escalated crackdowns surfaced. Then on April 3 reports of military escalation in four major urban centers dashed hopes that al-Assad's April 10 military withdrawal will actually take place.
And so the world waits for Tuesday. Then we will know what legitimate courses of action may come next. If al-Assad abides by the peace plan, then the world can exhale and allow peace to have its process. If not, then multiple questions step to the fore.