In Garry Trudeau's Doonesbury comic strip, whenever President George W. Bush (represented by the empty helmet of a Roman centurion) is pushed to explain his inexplicable policies, he answers every question by repeating, "9/11, 9/11, 9/11 ... It changed everything."
This is great satire because it is only a slight exaggeration of reality. The Bush administration did seize upon the brutal events of that one terrible day and make them the prism through which it views all of reality. From that point on, every day has been an episode of 24, and will be until further notice. From that viewpoint, the use of military force as a first resort makes sense—we are in an eternal war against an invisible, and thus omnipresent, foe. And so does the administration's race to centralize government power. There's no time for congressional hearings or judicial review when the time bomb is ticking.
Under the sway of Big Al the Gore-acle, "global warming" sometimes seems poised to become that kind of all-purpose explanation on the leftward end of the political dial. Drought in Florida? Must be global warming. Floods in Texas? Global warming. Heavy hurricane season? Global warming. Light hurricane season? Global warming again.
It's a catch-all that is catching on.
Of course, human-caused global warming is real and requires urgent action. The same was true of the slaughter on 9/11. That attack should be the central reference point for U.S. national defense policies. And global warming should be at the center of our government's energy and transportation policies. But neither of them explains everything. And if the non-governmental forces that purport to advocate basic social change allow global warming to become their "9/11" prism on political reality, we will almost certainly live to regret it.
Read the Full Article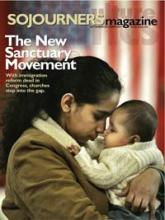 ​You've reached the end of our free magazine preview. For full digital access to Sojourners articles for as little as $3.95, please subscribe now. Your subscription allows us to pay authors fairly for their terrific work!
Already a subscriber?
Login