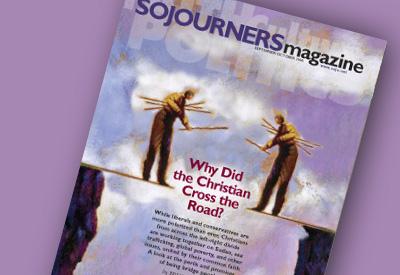 Anne Figge is used to the reaction when she answers the question, What did you major in?
"I can't tell you how many blank stares I've gotten when I say that I have a degree in peace studies. I always sheepishly flash a peace sign and say it again."
Figge, 24, will leave in September for Cape Town, South Africa, where she will serve a year with the Episcopal Church Young Adult Service Corps, concentrating on reconciliation work. Although she received her degree from Colgate University, a small, nonsectarian, liberal arts college in upstate New York, she finds that her major has had a large impact on her faith life. Her program, like most peace studies programs, was interdisciplinary - required courses included women's studies, sociology, international relations, and language.
"It changed the way I saw the world around me," says Figge. "I feel pretty certain that I wouldn't have pursued a faith-based, international service program if I hadn't first had exposure to peace studies. It heavily informs my spiritual life."
When Jesus referred to Jerusalem's ignorance of the things that make for peace, he likely was not speaking of those things learned through books, classrooms, or internships. But the study of peace in an academic setting can provide valuable tools for analyzing and addressing conflict, from the international level down to corporations, local governmental disputes, the justice system, the church, even the home.
Peace means many things to many people and often seems like an ethereal concept (perhaps because it is so elusive in our day-to-day world). But the study of peace brings one smack up against very concrete realities.
To study peace inevitably means studying conflict and violence: the history of wars and lower-intensity struggles, especially their root causes; the ethics of the use of force; the dynamics of intractable social conflicts (such as the abortion debate in the United States); case studies of crime and law enforcement; dimensions of race, class, religion, ethnicity, and gender in disputes. It means wrestling with theories of dealing with conflict nonviolently - and often, applying those theories through an internship in the local community.
Real peace cannot survive without justice. So a student might learn about human rights, civil rights, public policy, and the intricacies of, for example, delivering humanitarian aid in a war zone without being unduly used or manipulated by any party to the conflict. Students at a Christian school will also study theology and biblical ethics as part of their program.
Among Christian colleges and universities, peace studies and conflict resolution programs have most often been found at institutions affiliated with the historic peace churches (Mennonite, Brethren, and Quaker) and the Catholic Church. The first undergraduate peace studies program was founded in 1948 at Manchester College, an Indiana institution affiliated with the Church of the Brethren. According to the Association for Conflict Resolution, for several decades most peace studies programs focused on large-scale conflict and peace issues, nonviolence, and the nuclear arms race.
The number of programs in the United States increased noticeably during the Vietnam War (cited by some conservative critics of the field as evidence that "peace studies" is equivalent to "anti-American studies"). Beginning around 1980, programs under the rubric of "conflict resolution" (or related terms) began to emerge. During the last 15 years, a growing interest in mediation and similar skills as applied in a variety of settings - business, diplomacy, family conflict, the court system - has led to an increase or added emphasis on conflict resolution "tools," practicum within existing peace studies programs, and a multiplying of new conflict resolution and peace studies programs.
Some programs that self-describe as conflict resolution don't engage the same range of philosophical and ethical concerns and social analysis that is addressed in classic peace studies programs. This may be because of a specific, pragmatic focus of the particular program - for example, on the use of conflict resolution in business or law settings. But it also can represent different institutional philosophies about what constitutes peace (or even what constitutes a resolved conflict), and the means for reaching this condition.
Programs at schools rooted in a pacifist church tradition or in rigorous interpretation of the Catholic social teaching of just war may have more commitment to and knowledge of the potential and efficacy of nonviolent techniques than a program that doesn't draw on such history. One university's program may lean heavily to theory, while another emphasizes field experience. As with all choices about what to study and where to go to college or graduate school, a person needs to consider her or his own values, goals, and interests.
The good news is that there are more programs than ever to choose from. As of 1999, there were more than 160 undergraduate peace and conflict resolution programs in the United States, some granting a degree in the field, others offering a minor or certificate. As of 2000, more than 80 graduate peace and conflict programs (offering graduate-level minors, professional certificates, master's degrees, or doctorates) could be found in the United States.
Peace studies or related programs are beginning to make a home in schools rooted in Christian denominations not known for a specific doctrinal interest in pacifism or social teachings about peace. One example is Bethel University in St. Paul, Minn., sponsored by churches of the Baptist General Convention. Its popular reconciliation studies minor is expanding into a full major this fall. While sharing a similar interdisciplinary approach with other peace and conflict studies programs, the school describes the major as being "built on a Christian and biblical understanding of reconciliation using the life of Jesus as a model." This specific evangelical orientation - combined with a focus on issues of race, gender, class, culture, and religion - sets Bethel apart.
"Today's world is divided by race, culture, gender, social class, religion, and in a host of other ways. Unfortunately, the church mirrors the same division," says Bethel associate professor Curtiss DeYoung, who has long experience in church racial reconciliation work. "We are attempting to equip students to be agents of healing in the world and in the church."
Another exciting development is the Plowshares Peace Studies Collaborative, a joint project of Earlham, Goshen, and Manchester Colleges. Supported by a grant from the Lilly Endowment, the collaborative aims to strengthen these colleges' individual programs as well as bring those strengths together through such initiatives as Peace House, located in downtown Indianapolis. A group of students lives in Peace House for a full semester, undertaking both shared academic work and individual internships. Some examples of internship sites include school-based peer mediation programs, domestic violence agencies, government agencies, or inter-religious dialogue organizations. The program is open to undergrads in any major, from any U.S. college or university.
At the graduate level, available options range from global policy at University of Notre Dame's Joan B. Kroc Institute for International Peace Studies to concentrations in conflict management and peacemaking in the workplace, schools, or churches at Fresno Pacific University. Eastern Mennonite University's Center for Justice and Peacebuilding (CJP) courses are taught by faculty who usually have previous or ongoing on-the-ground experience in fields such as international development and humanitarian assistance, congregational training, and supporting victims of trauma.
Along with its regular graduate program, CJP also runs the Summer Peacebuilding Institute (SPI) and the Practice Institute. Each May and June, the SPI brings together nearly 200 practitioners from a variety of fields who deal with conflict situations for intensive training in peacemaking, conflict transformation, trauma healing, and restorative justice. To date, the SPI has had more than 1,500 attendees from 83 countries, and alumni have established regional institutes around the world. The Practice Institute houses projects such as JustBridges, which works to ameliorate the extra trauma that victims' families can experience during trials, especially in capital cases, by providing trained specialists to act as a conduit between survivors and the defense team.
Jesus called all who follow him to be peacemakers and reconcilers, even if our paid job isn't to seek healing justice in the midst of a death penalty trial, to negotiate between warring factions, or to mediate a business dispute. But the bloodiest century in history is a not-distant-enough memory, and the one recently begun isn't off to a promising start. Violence takes its toll down the block and on the other side of the world. Perhaps now more than ever, we need women and men who have a specific vocation for the gritty, sacred work of peace and the expertise to help the rest of us find the way. n
Julie Polter is an associate editor of Sojourners.
To Learn More:
• The Peace and Justice Studies Association (www.peacejusticestudies.org)
• PeaceEd.org (www.peaceed.org)
• The Plowshares Collaborative (www.plowsharesproject.org)
• Association for Conflict Resolution (www.acrnet.org)
• Bethel University Reconciliation Studies (cas.bethel.edu/dept/anthropology)
• Center for Justice and Peacebuilding, Eastern Mennonite University (www.emu.edu/ctp)
• Center for Peacemaking and Conflict Studies, Fresno Pacific University (peace.fresno.edu)
• Joan B. Kroc Institute for International Peace Studies, Notre Dame (www.nd.edu/~krocinst)