I used to wake at 3 a.m. with a start, jolted awake by the certainty that we had made God up. Given the dispassionate nature of the world, and the banality of our cruelty and self-absorption, the idea of a loving, present God seemed overwhelmingly absurd—a feeling as sad as it was terrifying. Thus it has been a great and humbling relief to discover that I exist in the company of millennia of God-lovers who also awaken to this dreadful sense of improbability. Those wiser than I—rabbis and poets, theologians and preachers—locate these midnight churnings squarely within the life of faith. I heard one say that if you're not convinced you're making it up at least a third of the time, you're spiritually dead. "So," I now say to myself on nights like these, "this is what it is to be alive."
To live in the Triune God is to "accept the anxiety of feeling yourself in suspense and incomplete," to borrow from Pierre Teilhard de Chardin. Living in the hope of our fundamental confession—that God, who is, has come in Jesus to dwell irrevocably with and in us, full of grace and truth—requires a radical abdication of control, reminding us that it is God, not us, who has both the power and the responsibility to make good on God's promises. This release of control renders us vulnerable even as it frees us to receive. For God's promises are effective—they free us to risk disappointment and give us the courage to relinquish our most critical defenses, so we can grieve past disappointments and permit ourselves to desire and yearn once again.
Advent attunes our ears and clears out our hearts so that the Creator of all can awaken us from numbness with the sharply vulnerable cry of a newborn. Spend these days praying for the freedom to risk hoping again. Make it a discipline to bring your disappointments and hungers—including your fear of hoping, your terror of aloneness—before God.
Read the Full Article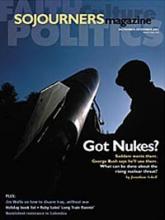 ​You've reached the end of our free magazine preview. For full digital access to Sojourners articles for as little as $3.95, please subscribe now. Your subscription allows us to pay authors fairly for their terrific work!
Already a subscriber?
Login