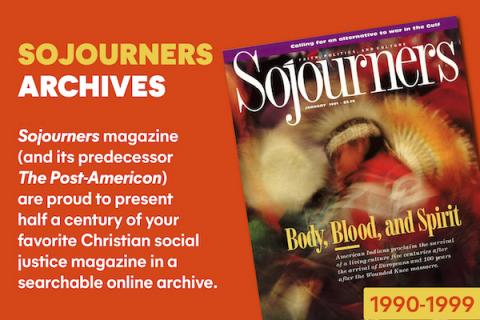 On January 27, 1998, Sojourners editorial staff was meeting when we got an emergency call from a friend, Rudy Carrasco. Racial reconciliation activist Spencer Perkins had collapsed and been rushed without a heartbeat to the hospital. Rudy asked us to pray for Spencer and his family, and we did, right there in the middle of our meeting. We asked God to be with Spencer and to heal him. There was still too much reconciliation work to be done, we prayed. We couldn't lose Spencer now. Minutes after our meeting ended, we received an e-mail from Rudy telling us Spencer had died.
In many ways, Spencer Perkins' shocking and sudden death couldn't have come at a worse time. Of course, there can never be a good time for a vibrant, committed 44-year-old-a loving husband and father, brother and son-to depart for his heavenly home. But for those of us outside of his family, church, and loved ones, the loss of Spencer Perkins was perhaps most acutely felt because of the work of racial reconciliation that he and ministry partner Chris Rice were raising to a new level in America.
The psalmist says that God ordains all our days before we even come to be, and one could certainly see this at work in the life of Spencer Perkins. Born in 1954 in the heart of the South, Spencer confronted the injustices of racial inequality every day of his life. Of course in America most, if not all, people of color experience the bite of racism. For Spencer and the Perkins family, these issues bit hard enough to draw blood. As the oldest child of John and Vera Mae Perkins, civil rights activists and the founders of the Christian Community Development Association, Spencer experienced at an early age the discrimination, hatred, and violence his family faced because of the color of their skin-and their courage to speak out against such treatment.
In 1966, Spencer and his brothers and sisters faced the wrath of whites in Mendenhall, Mississippi, when they were among the first black students to integrate the public schools. In 1970, 16-year-old Spencer and the rest of the family were shattered by seeing John Perkins in a jail cell, broken and bleeding from a beating by white police officers the night before. This event radically transformed the faith of the Perkins family. Spencer later wrote that that night "changed our Christianity. For my father, there would no longer be a salvation gospel and a social gospel. There would be one gospel-a gospel that reconciled people to God but at the same time reconciled people to each other. A gospel that taught no responsibility for your neighbor could not be accepted as the true gospel."
In 1983-the same year Spencer married Nancy Horst-the Voice of Calvary Fellowship, the interracial church they attended in Jackson, Mississippi, was ruptured by struggles about racism and the development of African-American leadership for its ministries. As the remnant from the church's breakup pulled itself together through intensive study of the New Testament, an intentional community named Antioch emerged. Spencer and his family were members of Antioch, as was Chris Rice, a young white man of "Vermont Yankee stock" who had come to Voice of Calvary in 1981 as a volunteer.
The friendship between Spencer and Chris developed into a partnership in ministry as they worked together on Urban Family, a magazine they founded with John Perkins in 1991. In 1993 Spencer and Chris' book about their reconciliation efforts, More Than Equals: Racial Healing for the Sake of the Gospel, was published. Coming just after the Los Angeles riots, More Than Equals was well received in evangelical circles for its articulation that racial reconciliation was necessary not just to achieve civil harmony, but-more important for Christians-to legitimize the message of the gospel. As "yokefellows," Chris and Spencer went around the country teaching that racial reconciliation was possible-and they were living proof of it. In 1996 they launched Reconcilers Fellowship and changed the name of Urban Family magazine to Reconcilers.
AS MORE PEOPLE HEARD Chris and Spencer speak or read their writings, their ministry started to make an impact, especially among young evangelicals. Reconcilers Fellowship helped Christians around the country become aware that it was their responsibility to do something to heal the racial fractures that rend the body of Christ. Called to reflect divine unity, American Christians have instead often lived into historical antagonisms based on skin color and ethnicity that had more to do with the ways of the world than the gospel. A growing awareness of this contradiction was spreading among Christians of all races, but it was perhaps among white, traditionally conservative believers that it was having the most dramatic effect.
In the 1990s, several primarily white bodies of Christians, including the Southern Baptists and pentecostal denominations, made significant public statements about racism. These institutions-which for generations had practiced racial separation, sometimes by twisting theology to back it-publicly repented the sin of racism, at least at the leadership level. Promise Keepers, one of the most influential Christian movements of the decade, named racial reconciliation as one of its primary concerns.
While this movement for racial healing in the church was sparked by many external factors-such as the Los Angeles rebellion of 1992 and the 1995 O.J. Simpson trial-the reconciliation work of Spencer Perkins, Chris Rice, and others helped move it forward. "[R]acial and economic justice, though a battle that must be continually waged," wrote Spencer in his preface to Stephen Berk's A Time to Heal, "was not a high enough ideal for Christians. For those who claim to be new creatures in Christ, reconciliation must be the goal."
Of course, many see reconciliation through relationship as an overly simplistic and naive approach to the weighty racial issues we face as a nation. "Show me the money!" is a fair demand put on white evangelicals by activists concerned about race-stratified inequities in this country. There are many cases of well-meaning white folks who "talk the talk" but don't "walk the walk." While some black activists applaud the reconciliation movement in Promise Keepers and other primarily white Christian organizations, they also criticize it for not going far enough. Pastor and activist Eugene Rivers told Sojourners, "The model that is being promoted is not reconciliation among equals, it's reconciliation between victims and victors. The reconciliation movement must move beyond football stadium lovefests to promote economic development and empowerment in the black community."
However, the approach of Spencer Perkins and the reconciliation movement is to believe the intentions of white Christians and focus on the development of relationships based on the gospel as the only solid foundation for true healing-and justice-to occur. Whether white evangelicals are sincere about reconciliation will be known by their fruit. "[T]he question is," Spencer wrote, "how does one know what is truly in the heart?"
By stressing the importance of cross-racial, reconciled relationships, Spencer offered white evangelicals a place to prove their convictions. And while the incarnation of a spirit of grace formed the core of the reconciliation process, Spencer knew that "faith without works is dead," and that unless the talk was translated into action at some point, the reconciliation movement wasn't going to have a future.
"I am often asked by whites why black Christians don't seemed too interested in reconciliation," he wrote. "If white Christians continue with the 'it's not my fault' attitude, if they are not willing to back up their reconciliation talk with sacrificial acts, then the majority of blacks and Native Americans are going to continue in their skepticism about all the reconciliation talk. In my opinion, this is a hurdle that is looming large on the future of the church's efforts at racial reconciliation in America."
Spencer believed Jesus' statement that "Where your treasure is, there will your heart be also," yet the commitment of the evangelical community to the cause of reconciliation hadn't yet been consistently reflected by financial responsibility. "Maybe it is why a [person like] Eugene Rivers can get away with making blanket statements like, 'It's a joke to say that white evangelicals are sincere about reconciliation,'" Spencer wrote. "Please, somebody offer some proof to the fallacy of this statement."
So while Spencer never dodged the questions of justice that loom over every effort to create reconciled relationship between races, he believed that reconciliation was based on something deeper and more fundamental than social transformation. For Christians, justice in this world couldn't be seen as the end of the road.
The focus on forgiveness, reconciliation, and love by these preachers of reconciliation wasn't as much a strategic move as it was an effort to be faithful to the gospel. For Spencer, his "new creatureness" in Christ was of much greater significance than his racial identity. The fact that this isn't a popular position to hold in many liberal Christian communities didn't seem to faze Spencer at all. In fact, he seemed to understand the great importance of adhering to the core of Christianity in an environment that can sometimes be criticized for reducing the gospel to political instead of spiritual causes.
FOR SPENCER PERKINS and others committed to the ministry of reconciliation, it was time to take the church's work for racial justice to another level. And that involved challenging the African-American community as well as whites to embrace responsibility for the healing process. "For the past several years we have been engaged in an elementary discussion about race relations," Spencer wrote in one of Reconcilers Fellowship's statements. "I think it is time to move on to some of the tougher issues that may be 'uncool' to discuss in mixed-race company."
Spurred by his deep love for the African-American community, Spencer wasn't hesitant to face difficult and unpopular questions. "There are some hard realities that we shy away from addressing," he said. "For the most part, any negative behavior by or in the black community is explained with one answer, racism." While he never denied that the demon of white racism continued to devastate our society, he wanted to elevate the discussion to a higher, more biblical level. Spencer knew that the mentality of victimization and "us vs. them" that characterizes much of racial politics had the power to destroy the black community from the inside out. While white folks had their business to attend to, African Americans also had theirs. "I want to help raise the level of consciousness of my black brothers and sisters," he wrote. "If white folks have to sit and listen to us go on about all the evils that they have perpetrated against humanity, then we had better begin wrestling with some of our own uncomfortable issues. Otherwise whites will be the only ones growing up."
Spencer believed that the black community has the potential to move the entire country to a new level, but without hard work and diligence African Americans could be open to attacks motivated by racism. "Racial reconciliation assumes that we are all created in the image of God. It is that fact alone that gives us innate dignity. It does the black community no good to lower the standards and treat African Americans like we are emotionally and mentally crippled." Again, Spencer looked to action and real results to silence the critics. As always, the bottom line wasn't, "How can I get ahead in this world," but, "What does the gospel call us to?"
JUST BEFORE HIS DEATH, Spencer Perkins' own faith was being raised to a new level. After years of challenging others to live out reconciled relationships, Chris Rice and Spencer were facing seemingly irreconcilable differences in their own partnership. After nearly going their separate ways, the two received simple but profound counsel from their spiritual mentors, John and Judy Alexander: Grace. That is the nature of God's great love for us, and nothing more, nothing less, should be at the heart of the Christian life. While Christians readily acknowledge the gift of grace God gave us by sending Jesus to die for us ("I could quote John 3:16 when I was knee high to a duck," Spencer wrote), it is more difficult to extend the same kind of grace to our sisters and brothers. Spencer wrote that he and Chris learned that they "could hold on to our grievances and demand that all of our hurts be redressed, or we could follow God's example, give each other grace, and trust God for the lack. We chose grace."
It was this unconditional grace that Spencer and Chris Rice introduced as "a new player in the race game" during their presentation at the College, Ethnicity, & Reconciliation conference in Jackson, just days before Spencer's death (see "To Heal the Church" in Sojourners' resource Crossing the Racial Divide). Though hobbled by a cast from a basketball injury, and despite passing out earlier in the day from diabetic shock, Spencer rose to the occasion as he wrestled with some of the most profound issues for Christians involved in the work of racial justice.
"A part of my consciousness trembles because it has already calculated the consequences of allowing grace to take its rightful place in our reconciliation process," said Spencer. "This part of me already knows that it will not go over very well with my black brothers and sisters. But we have to talk about it if we're going to move forward. I know it is the truth according to the gospel of Jesus."
For many of those present, the risk Spencer and Chris took was worth it. And for all of us, Chris' and Spencer's presentation left a new and deeper path to follow in the effort for racial justice. As their final public offering, their dialogue made it clear that the racial struggles that have vexed this country throughout its history could not be healed if the effort were separated from the unconditional love of the gospel.
For Spencer, the call for reconciled relationships had to be authentic. He went to great lengths to live out the reality of racial reconciliation in his ministry relationship with Chris Rice. Their relationship deeply touched every area of their lives. Chris wrote just after Spencer died, "Some people described Spencer's and my brotherhood like a marriage, and it's true that the deep interdependence of our relationship defied easy labels." A friend told him, "Chris, you have lost three limbs: one part yokefellow, one part vocation, and the last part from community." In part because of the immense changes Spencer's death brought to so many areas of their life, both Reconcilers Fellowship and Antioch Community have decided to disband and to pursue other ways of fulfilling their ministries.
Spencer also experienced the dynamics of racial reconciliation-in all of its intimacy-with Nancy, his wife of 15 years. As Spencer wrote, Nancy's and Spencer's marriage made race a "personal issue" for her white, middle-class Mennonite family. Spencer wrote that for his parents, "who have taught the biblical truths of racial reconciliation for more than 20 years, my marriage to Nancy tested the depth of their commitment to those truth-and the truth won."
Spencer's legacy to their children-Johnathan, Jubilee, and April Joy-includes the challenges of forgiveness and reconciliation. When their Christmas gifts were stolen from underneath the tree one year, Spencer tried to model for his children how to extend grace even when they couldn't feel it in their hearts. For a child anticipating Christmas morning, it must have been an incredibly difficult challenge. Spencer had trouble himself forgiving "the grinch" who stole their Christmas. But he knew the value of the lesson, as hard as it was. "If we intend to change the unconscious cultural mindset, we will have to be intentional," he wrote in Equal Partners. "Telling our children the truth will not suffice. We will have to show by our deeds the truth of our words."
Spencer Perkins was as human as any of us. He loved shooting hoops, fishing his favorite bluegill beds, and spending time with his family and community. And by many accounts Spencer could be hard to live with. He could shout, yell, and be as stubborn as anybody. But Spencer's life teaches us that the path of grace is a lifelong process. While it isn't a road we can walk in one day, we must wake every morning to start out on it again. And if we do, little by little, through the holy truth and power of the gospel, we might learn how to forgive each other. Spencer, like all of us, was in the process of learning this, and in doing so, was perhaps being just what Jesus created him to be.
AARON McCARROLL GALLEGOS, former Sojourners assistant editor, is now a contributing editor and a free-lance writer in Toronto. He is working on a book on Latino youth and alternatives to gang violence.