THE RIGHT TO VOTE, a foundation of our democracy and a fundamental attribute of citizenship, is under serious threat. In recent years, attacks on the integrity of the electoral system—the gutting of the Voting Rights Act, disinformation campaigns, foreign interference, and more—have weakened its overall infrastructure and cast doubt upon its results. Now we're seeing repeated attempts, through propaganda and other means, to further undermine the system and discredit in advance the results of the 2020 election.
The president has attempted to co-opt real concerns about the upcoming election, claiming without evidence that it might be "stolen" as a result of fraud tied to vote-by-mail. His efforts deflect attention away from the ways that voter suppression efforts already underway pose a real danger, both to people seeking to exercise their hard-won right to vote and to the integrity of the electoral system itself.
As many have pointed out, there are numerous ways internal or external forces could call the results of the election into question: declaring a state of emergency that disrupts voting, delaying Election Day, interference by hostile foreign powers, tampering with voting machines or databases, and more. All of these represent legitimate threats, but perhaps the most likely scenario is that rampant voter suppression tactics impede enough voters in key battleground states to alter the presidential election outcome and which party controls Congress.
Since the passing of the Voting Rights Act in 1965, systematic efforts have been made to exclude Americans of color from the voting process. In 2013, in its Shelby County v. Holder ruling, the Supreme Court gutted the Voting Rights Act, rolling back 20 years of provisions that were aimed at registering and protecting more voters, particularly African American voters. The court's ruling, essentially declaring that racism was a thing of the past, was a severe blow to American democracy. It allowed more than half the states to pass a series of voter suppression measures that represent new forms of Jim Crow, including stricter voter-ID laws, limits on polling locations, the purge of voting rolls, and more.
More recently, in addition to sowing chaos and confusion into the election, President Donald Trump has engaged in direct attacks on the electoral process, publicly predicting—without evidence—large-scale voter fraud. In a July interview with Fox News' Chris Wallace, Trump reiterated that he thinks "mail-in voting is going to rig the election" and refused to commit to accepting the election results.
The president's attacks on voting by mail have been amplified by the Republican National Committee and conservative groups, which are spending tens of millions of dollars on a multistate legal strategy to limit the expansion of absentee voting. While voter fraud tied to vote-by-mail is a politically manufactured myth, states will see a surge in absentee ballots and likely experience slowdowns and challenges due to a lack of experience and inadequate infrastructure as a result. The 2020 primaries offer a cautionary tale—more than half a million absentee votes weren't counted, primarily because they either arrived too late or had certification issues.
What are we going to do about it?
As partisan actors escalate their efforts to cast doubt upon our electoral processes, it's important to remember that Election Day won't be a "day" at all this year. In part due to state-by-state election changes in response to the pandemic, nearly 75 percent of Americans are eligible to cast an absentee vote or otherwise vote by mail. Some predict that we may not know the winner of the presidential election for a week or more after Nov. 3, mainly due to the additional time it takes to process these ballots.
Since more Democrats than Republicans say they plan to vote by mail, it is also possible that Trump will appear to be ahead in many battleground states based on in-person voting results and will try prematurely to declare a victory, even with millions of absentee ballots still to be counted. It is also possible that the election results will be contested, with drawn-out legal battles to certify the results at the state level, which could easily prolong the final count until states have to submit their electors to Congress in mid-December.
Let's be clear: This country is not immune from attacks against democracy, including a president refusing to leave office. Freedom House, a nonpartisan research, analysis, and advocacy group focusing on defending democracy, reports that the United States has seen a steady decline in its "global freedom score," ranking behind 51 of the 87 "free countries" in 2019. Scholars of authoritarianism have been warning us of this reality for years.
The real question is, what are we going to do about it?
A moment like this will require unprecedented mass nonviolent resistance. Without it our nation faces the real prospect of violence and civil conflict by vigilante groups, alt-right groups, and others who could turn what already feels like a cold civil war into an actual one. It is important to clarify that if the president wins a second term in a decisive way through a free, fair, and safe election, it is equally imperative that the other side accept the results, as soul crushing as that may feel. Safeguarding against a stolen election is not a partisan exercise. It is about exercising our faith and protecting our democracy.
Each sector of society will have pivotal roles to play. The faith community must support the efforts of movements such as Black Lives Matter and the Movement for Black Lives, the Poor People's Campaign, the Dreamers, the Sunrise Movement, Protect the Results, and other movements that have spent years organizing at the community and national levels. For people of faith, this is a tangible way to live out the call to love and care for our neighbors.
The media will need to report accurate and timely information, documenting suppressed votes and illicit behavior. The business community will have to speak out with clarity and courage, in part making the argument that the fate of our economy is tied to a legitimate election outcome. Civil rights and legal groups must be prepared for the long term, as litigation likely will be necessary. Many other parts of civil society will need to mobilize and speak out on an unprecedented scale.
Our government rests upon the consent and cooperation of the governed. Thus, as conflict and human rights experts Maria J. Stephan, Candace Rondeaux, and Erica Chenoweth point out, it requires "civil servants to run the bureaucracy, workers and professionals to keep the infrastructure intact, religious institutions to provide them with moral legitimacy, businesses to keep the economy afloat, and security forces to obey orders." As we organize, we must keep in mind that this cannot be a business-as-usual moment: If anti-democracy forces infect and subvert our government, faithful citizenship requires that we withdraw our consent and cooperation.
And it will require a bipartisan response. Convincing national and state Republican leaders to defy their own president will require an unprecedented degree of targeted political and moral pressure. That is why we will need new wineskins, drawing upon and adapting lessons from history, including experiences from other countries.
The power of nonviolent action
First, we can learn lessons from key moments in our own history. Prayer vigils and prayerful, nonviolent action were integral parts of the resistance efforts of civil rights trailblazers. We see the power of nonviolent action in the courageous example of the late Rep. John Lewis, who was beaten on the Edmund Pettus Bridge on "Bloody Sunday" in 1965. Police violence and brutality toward the peaceful protesters on that bridge shook the conscience of the nation and galvanized public opinion in favor of the Voting Rights Act. It also compelled President Lyndon Johnson to push through the act, even though, as he correctly predicted at the time, the act's passage led to an exodus of white Southern Democrats to the Republican Party. Massive, nonviolent, well-publicized actions can help elucidate a crisis for those who need convincing.
From Gandhi's famous salt march, in which Indians defied British colonial rule by making their own salt as an act of civil disobedience, we can learn the power of symbolism and giving everyone a small, subversive way to demonstrate their defiance and noncompliance with illegitimate rule. In our context, refusal to go to work and/or fasting from participating in the economy through our purchasing decisions could provide the economic leverage needed to generate substantial political pressure. This strategy should be done responsibly, with efforts to protect those who are in vulnerable conditions and would be hurt by the economic fallout.
From the anti-apartheid struggle, we can learn the power of divestment and rallying international support and pressure against a stolen election. While those dishonoring election results will likely ignore international pressure, solidarity protests in other corners of the world as well as political pressure from key democratic allies could significantly impact public opinion and ratchet up pressure on Congress.
The role of the church
The faith community can add essential assets to this movement: moral authority, actionable constituency, and vast communications networks. These substantial resources must be deployed and leveraged on a massive scale and in a unified way to speak the truth and to quell violence.
The church's moral authority is based on the ability of faith leaders to appeal simultaneously to both biblical and civic values, holding our nation up to its highest ideals. This is exactly what Martin Luther King Jr. did so brilliantly in elevating the Constitution and the Bible as he called on our country to live up to both.
Our moral mandate is rooted in the biblical truth that all people are created in the image of God and are therefore equal; our civic duty, then, is to protect the vote and, where necessary, challenge efforts to deny it. Pastors and clergy are far more trusted by their local congregants than are politicians or the media. On Election Day, and especially during the period immediately afterward that will likely be needed to count absentee ballots and resolve lawsuits over contested results, it will be imperative that faith leaders speak out clearly and forcefully. It will be their role to show what a faithful response to unethical and undemocratic actions looks like—this must include a combination of targeted advocacy toward Congress, massive peaceful protest to generate a tipping point in public opinion, bold education and engagement across social media, focused economic pressure, and more.
In the event of a contested election, with misinformation campaigns targeting the media and with the public grasping for credible information, trusted faith-based institutions could serve as an intermediary to synthesize and disseminate news about vote counts, suppression efforts, and more based on data from trustworthy experts such as the Lawyers Committee on Civil Rights, the NAACP, and the Brennan Center for Justice, as well as cross-partisan groups such as the National Task Force on Election Crises, among others.
The faith community can also play a particularly central role in mobilizing protests with a disciplined and firm commitment to nonviolence, offering a counternarrative to any violence that may ensue. Protests will be needed on a scale that could literally shut down Washington, D.C., as well as other key metropolitan areas around the country. It will also be critical that protests take place in red states, as well as in rural areas, to show that there is deep and widespread opposition to a stolen election outcome in both Democratic- and Republican-leaning areas.
Many civic organizations are already planning for these contingencies, and while the vast majority of protests likely will be peaceful, there is a great risk that paramilitary groups, self-styled "militias," and other nefarious actors will instigate violence. It's imperative that Christian and other faith leaders across the theological and political spectrum act and speak out, with courage and conviction, to protect our democracy.
As people of faith and as Americans, we have a profound religious and civic duty to ensure that any attempt to subvert a free, fair, and safe election or to dishonor the electoral outcome is met with the full force of bold and sustained moral resistance.
In the event of a stolen or marred election, the faith community must wield every tool it has. We hope and pray that this preparation and strategy will be unnecessary, but in the face of attempts to subvert the election and its results, we can't think of a better way to honor the life and legacy of John Lewis and others who came before than getting into some good and necessary trouble to save our democracy.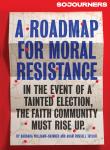 This appears in the November 2020 issue of Sojourners
Got something to say about what you're reading? We value your feedback!