[editor's note: This article was originally published in 2012. References to elections or politicians without specific dates attached are in the context of the 2012 election cycle.]
AS I CAREFULLY watched both the Democratic and the Republican conventions this summer, I realized, once again, how challenging and complicated it is to bring faith to politics.
For example, the phrase "middle class" was likely the most repeated phrase at the conventions. And even though both parties are utterly dependent on their wealthy donors (a fact they don't like to talk about), they know that middle-class voters will determine the outcome of the election. Now, I believe a strong middle class is good for the country, but Jesus didn't say, "What you have done for the middle class, you have done for me." Rather, Matthew 25 says, "What you have done to the least of these, you have done to me."
When your first principle for politics is what happens to the poor and vulnerable—and I believe that is the first principle for Christians—you keep waiting at conventions for those words and commitments. There were a few moments when the poor were briefly mentioned, but it certainly wasn't a strong theme in Tampa or Charlotte. "Opportunity" for the middle class was an important word in both conventions this year, but Christians must be clear that creating new opportunities for poor children and low-income families is critical to us.
The conventions also talked a great deal about "success," but how we define that is very important. Is success mostly about how much money we make, defining the "American Dream" as being able to pass on more riches to our children than what our parents passed on to us? Or is success measured by how we as a nation prioritize, in our spending and political choices, the sick, the vulnerable, the weak, and the elderly? Is it determined more by the values we pass on to our children—evaluating our lives, and theirs, by how much we are able to help others?
America is a nation of immigrants, and how we welcome "the stranger" in our midst is another Christian principle for politics. So is our racial diversity as a nation, where all our citizens must be treated as having equal value. The most inspiring stories at the conventions for me came when that diversity was evidenced on the stage—from a young undocumented "dreamer" and a black first lady on the platform at the Democratic convention to Condoleezza Rice telling her fellow Republicans how a little girl from a segregated Southern city became secretary of state. But little mention was made at either convention of the racial disparities in America's burgeoning prison industry or voting suppression efforts that most affect minorities and people who are poor.
Read the Full Article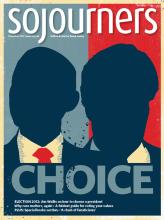 ​You've reached the end of our free magazine preview. For full digital access to Sojourners articles for as little as $3.95, please subscribe now. Your subscription allows us to pay authors fairly for their terrific work!
Already a subscriber?
Login