THE FIRST THING NASA cinematographer Nasreen Alkhateeb does when approaching new stories is to look for the heartbeat. A transmedia artist, Alkhateeb spent much of the last year at NASA recording Goddard engineers as they constructed the massive James Webb Space Telescope, set to launch in 2018. The largest-ever space-based telescope is designed to capture images at an astonishing distance, collecting data on the formation of some of the first galaxies in the universe.
Alkhateeb's job, she says, was to translate the complexities of this tool to a non-science audience. For that, she primarily focused on the workers on the ground.
"It's really about all the different fingerprints that have touched this project," she tells me. "The story of the telescope goes hand in hand with telling the story of the individuals and the agencies who are collaborating to build it."
Outer space has twinkled in the American imagination at least since since NASA's founding in 1958. One secular hope for salvation lies in inhabiting the heavens—whether on Mars, a source of fascination for National Geographic and for SpaceX CEO Elon Musk, or elsewhere.
Yet the role NASA will play in future space exploration is up for debate. Public faith in NASA is strong—the agency is the second most-trusted government institution in America, after the Centers for Disease Control and Prevention. The new Trump administration "clearly values space as an inspirational tool," Pacific Standard opines. But there's quite a bit to suggest a reshuffling of funding priorities from the president, whose advisers have challenged NASA's focus on earth science—including recording the evidence and effects of climate change, which will disproportionately affect poor and marginalized communities.
"NASA should be focused primarily on deep space activities rather than earth-centric work ... better handled by other agencies," wrote Robert Walker and Peter Navarro, senior policy advisers to the Trump campaign, in October.
And as the Trump administration grows ever-cozier with fossil fuel corporations and tech giants while gutting public funding, it's reasonable to ask who will be included in the "inspiring" lens of human-led space exploration. In our science narratives, both fictional and real, there's a long tradition of featuring beautiful, rich white people (as in Passengers) and ignoring people of color and women (as revealed in Hidden Figures).
To some extent, the future will be built from our present storylines. People mimic what they see. And there's been no indication that the present administration will do much to challenge the narrative that gives access and opportunity going forward to the wealthy and white.
For storytellers such as Alkhateeb, who calls NASA "probably one of the most diverse places I've ever had the pleasure of working," focusing science stories on the humans building a new future can translate into new narratives of inclusion.
"I think the audience who is interested in knowing more and being exposed to the data the James Webb telescope will provide is always growing. That level of interest and devotion exists outside of political realms," she says.
Whether the inspirational story of humans in space will be built for all of humanity or for the whitest 1 percent very much remains to be seen. As agencies and corporations continue the exciting work of deep space exploration, it's worth focusing our lenses closer to home—on the fingerprints shaping our next chapter.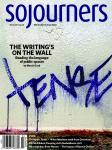 This appears in the March 2017 issue of Sojourners
Got something to say about what you're reading? We value your feedback!