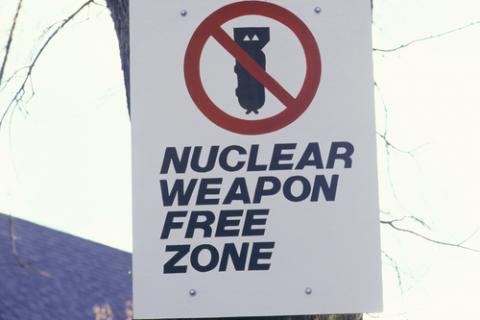 HOW MANY NUCLEAR weapons make us "safe"?
At the height of the Cold War, both the U.S. and the Soviet Union had tens of thousands of nuclear warheads, aimed at each other's cities, towns, and military targets. Not many felt that the world was somehow made safe by this hair-trigger, apocalypse-risking standoff.
The Soviet Union is long gone, but the Cold War mentality that fueled the era's nuclear arms race seems to linger on. According to a December report by the Federation of American Scientists, the world's combined stockpile of nuclear warheads is still more than 17,000. Of these, the report continues, "some 4,300 warheads are considered operational, of which about 1,800 U.S. and Russian warheads are on high alert, ready for use on short notice."
President Obama, for his part, has laid out what he called his "vision of a world without nuclear weapons." In a speech last March in Seoul, South Korea, Obama said the goal of a nuclear-free world "would not be reached quickly, perhaps not in my lifetime," but that it must begin "with concrete steps." He continued, the "massive nuclear arsenal we inherited from the Cold War is poorly suited for today's threats," and "we can already say with confidence that we have more nuclear weapons than we need." (That could be considered a gross understatement, since the next leading nuclear threat—China—has only about 50 warheads on ICBMs that could reach the U.S.)
Despite this dangerous—and expensive—overkill capacity, the U.S. intends to spend hundreds of billions of dollars in the years to come enhancing its already-bloated arsenal.
For instance, according to a December report by the Congressional Research Service, the Navy plans to build 12 new ballistic missile submarines—at a current estimate of $5.6 billion each, which will probably be double that in the real world—to replace the Trident nuclear submarines now on patrol. These new subs will each carry at least 16 ballistic missiles, with four or five nuclear warheads apiece—each one up to 20 times as powerful as the bomb that obliterated Hiroshima. And that's just the submarine leg of the strategic triad; according to Walter Pincus of The Washington Post, the cost of replacing the nation's nuclear delivery systems will top $100 billion and require another $300 billion over the next 10 years to keep them operational.
Not exactly a concrete step toward a non-nuclear world.
THE OBAMA ADMINISTRATION is engaged in what the president called "a comprehensive study of our nuclear forces." He said in his March speech that moving toward a world without nuclear weapons is an obligation "that I take very seriously," and that he believes "the United States has a unique responsibility to act—indeed, we have a moral obligation. I say this as president of the only nation ever to use nuclear weapons."
Many policy choices in the next few years will either support or undermine that goal. Even small steps forward are resisted by those wedded to that old Cold War thinking. For instance, the 2010 New START treaty with the Russians would only reduce our deployed strategic nuclear warheads by a few hundred—and yet House Republicans in January tried to pass legislation that, according to the Arms Control Association, would hold the treaty "hostage" to disagreements with Russia on other issues.
A central provision of the nuclear Non-Proliferation Treaty is that the nuclear powers will pursue, in good faith, "cessation of the nuclear arms race at an early date" and "general and complete disarmament." The U.S. ratified that treaty in 1970; after four decades, the world is well beyond the "early date" for making good on that promise.
Military and political forces will continue to push for the expenditure of billions of dollars on these horrific, obsolete weapons, despite the fact that they don't make us safer or deter terror, and that "modernizing" the arsenal only leads to further proliferation as other countries seek to follow suit.
Back in the 1980s, the peace movement had a slogan about the nuclear arms race: The way to stop is to stop—stop the production, testing, and deployment of any new nuclear weapons or systems. Perhaps it's time for the churches, and the public at large, to bring that old idea out of mothballs and once again just say no to these weapons that promise nothing but unspeakable devastation.
Jim Rice is editor of Sojourners.
Image: Nuclear weapons free zone sign, spirit of america / Shutterstock.com