A group of Native Americans appeared before the Trademark Trial and Appeal Board to argue that "Redskins," the name of Washington, D.C.'s football team, is racist and not deserving of federal trademark protection. Federal law states that a company name may not be "scandalous" or "disparaging." A lawyer representing the football team said that the term "Redskins" is neutral and synonymous with "Indians."
Offering another opinion is Chief Billy Redwing Tayac of the Piscataway Indian Nation, a Native American people who have been in the Washington area for roughly 10,000 years longer than the football team.
"'Redskins' is a racial slur," Chief Tayac said. "The term has only continued to be acceptable because native people have been decimated and don't have the political or economic clout to stop it. One only has to look at the origin of the term 'redskins' to see that it is not neutral. When [Europeans] first came to our country, a bounty was offered on Indians, and the dead were brought in by the wagonload. But that got to be a problem, so they started asking for just the scalps of Indians. Just like the hide of a deer is called a 'deerskin,' and the hide of a beaver is called a 'beaverskin,' the scalp of an Indian was called a 'redskin.'
"People want to see us riding horses and living in tepees, but Indians are modern people and we want the same respect that has been applied to other peoples. We are men and women—not animals."
The board is expected to make a decision on the case within a few months. While the board cannot force Washington's football team to stop using the name, it can withdraw trademark protection. Such a decision would cause the team to lose significant revenue in merchandise sales and perhaps provide the bottom line for a name change.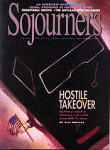 This appears in the July-August 1998 issue of Sojourners
Got something to say about what you're reading? We value your feedback!