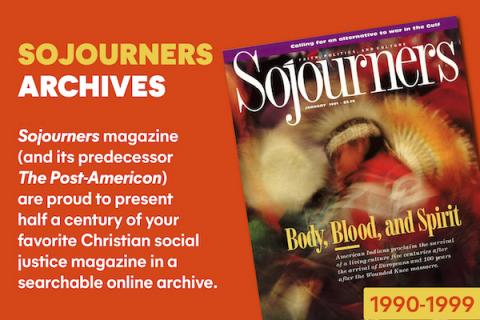 For three weeks in February 1998, a delegation of U.S. religious leaders made a historic visit to the People's Republic of China. Selected by President Clinton and invited by President Jiang Zemin, the delegation's unprecedented mission was to begin a dialogue with top government officials in China on the subject of religious freedom. The delegates said they knew the dangers of such a state-sponsored visit—especially the risk of co-option by their hosts—but felt they were able to voice criticisms, broaden awareness, and introduce a new perspective on religious freedom to many Chinese officials.
Rev. Richard Cizik, a policy analyst for the National Association of Evangelicals and a staff member for the delegation, said he has been preparing for this trip since reading Pearl S. Buck's The Good Earth as a child. Cizik received a graduate fellowship to the National Political Science University in Taiwan in the early 1970s, and visited the garrison coastal islands of Quemoy and Matsu—the closest that an American with a Republic of China passport could get to mainland China at that time. "Looking through binoculars from one of the concrete bunkers built to house artillery batteries," he said, "I promised God that I would someday get to the mainland." This year he fulfilled that promise. —The Editors
"We're here to build a spiritual bridge between the United States and China," the rabbi, minister, and archbishop calmly explained. At least a dozen reporters with cameras, including representatives of Xin Hua, the official Chinese News Agency, crowded the entryway of the White Cloud Daoist Temple to interview the highest level delegation of its kind at the start of a three week mission on behalf of religious freedom.
"Don't you think you are being used by the Chinese government for propaganda purposes?" a reporter from Reuters inquired.
"Except my mother and me, the entire Schneier family died in Nazi concentration camps," the rabbi responded. "I know what it means to be manipulated by authorities, and that's not going on here."
Worshipers streamed into the 14th-century temple to light a joss stick and say a prayer to one of their deities. Over tea, the temple's head abbot explained that during the Cultural Revolution, Red Guard zealots sought to stamp out "revisionism" in a campaign as cold as steel. All the temples and churches were closed, if not destroyed. Millions died. Priests not murdered were conscripted to make umbrellas. Since then many churches, mosques, and temples have not only been reopened but restored with government help.
Back in the States, friends in the human rights movement were greatly concerned about the U.S. religious delegation to China. Mike Horowitz, a Jew who had assisted the National Association of Evangelicals (NAE) in putting together our 1996 "Statement of Conscience on Worldwide Religious Persecution," said, "Somewhere in China a jailer may be applying a particularly brutal torture treatment on a house church leader while waving stories of the delegation's meetings with Chinese officials."
President Clinton had warned the three clerics selected for the trip that "there are risks involved." The delegation—Rev. Don Argue, president of the NAE; Rabbi Arthur Schneier, president of the Appeal for Conscience Foundation; and Archbishop Theodore McCarrick of Newark, head of the U.S. Catholic bishops' International Affairs Committee; along with five staff specialists—spent a month in preparatory meetings with human rights groups, scholars, and congressional leaders.
THE FIRST DAY in the country, we met the head of the Foreign Affairs Office at the same compound where Henry Kissinger secretly planned President Nixon's summit with Mao Zedong. Our hope was that if Chinese President Jiang Zemin would meet with us in Beijing, offering a diplomatic introduction and mandate, then our subsequent talks in Nanjing, Shanghai, Chengdu, Lhasa (Tibet), and Hong Kong would carry his imprimatur.
Two days later at Zhongnanhai, the party leadership compound, President Jiang not only agreed to meet but offered the change-ringing words, "Religion must now be on the agenda." The story was carried on the front page of The People's Daily around the country. President Jiang added, "As a youth I was nursed back to health by one of your [Christian] co-religionists." Argue urged him to read the New Testament book of John. Jiang repeated, "John, the book of John," without making an exact promise to do so.
Jiang, who is General Secretary of the Chinese Communist Party, recently recommended that army officers read a book series on Buddhism, Islam, Christianity, and Taoism titled On Various Aspects of Religious Culture. Does Jiang Zemin know that China is facing a spiritual crisis? At the very least, he knows that there are as many Christians in China as there are members of the Communist Party. In the 1980s, the party tried to build a "spiritual civilization" (jingshen wenhua). According to Yuan Zhiming, a leader at Tiananmen Square in 1989 who has attended the National Prayer Breakfast in the United States, it failed because "it was a code of moral knowledge, not faith. It was therefore powerless." Now, he said, Communist Party officials are "at their wits' end as to what should be done. They refuse to come to terms with the power of faith."
At the Kempinski Hotel, a young hotel maid knocked on my door. In faltering English, she asked, "I've seen your books—may I have one?" She then led me across the room and pointed to a Chinese Bible. "Of course, and here's a Jesus video, too." Smiling radiantly, she whispered thank you and quickly exited.
In a significant breakthrough, we were able to meet with not just the Religious Affairs Bureau but the Justice Ministry and the United Front Work Department. The Religious Affairs Bureau enforces rules on church registration, whereas United Front officials actually set policy.
The vice minister of the United Front engaged in what charitably could be called "diplo-speak"—an hour-long lecture on "new freedoms." For churches that register with the state and abide by rules on "normal religious activity," open worship is allowed in "government designated locations," with opportunities to distribute Bibles under certain restrictions and practice a limited form of charitable activity. But unregistered "house churches" where evangelism and teaching occur are "illegal gatherings" and subject to prosecution. There were no "Stop interfering in our internal affairs" harangues.
We asked to meet with officials who actually participate in writing the registration laws. Surprisingly, the request was immediately granted for the following day. For nearly two hours, we argued our case. "Can you understand that for evangelical Christians registration is objectionable on theological grounds?" "Is it possible that house church believers are good citizens and not 'enemies of the state'?"
For Communist bureaucrats, schooled in the Party philosophy of historical materialism and class struggle, our questions posed a problem. Do they admit that the state's grip on the lives of people is morally flawed? Not if they want to keep their job or protect their self-interest. "Every business and legal entity must register with the government and the church is no different," goes the Party line. "That doesn't justify the persecution of those who are opposed," we protested.
According to Chinese exile and Harvard student Yang Jianli, the "common hatred and dissatisfaction in Chinese society that the tyranny of the Communist Party has created, combined with the lack of a restraining morality to accompany growing materialism, have provided a breeding ground for violence in politics." It's not always easy to break out of this cycle. A member of the unregistered house church movement—a man who had spent more than 20 years in prison—painfully described his oppressors, saying, "They are evil—even worse than evil."
WE HELD TALKS IN LHASA, the capital of Tibet, just before a major Tibetan religious holiday. Yet there were few people in Jokang Temple, the most sacred of Lama temples. Apparently monks, nuns, and temple worshipers were routed away so no one could engage us in casual conversation.
Not often are foreigners allowed into a Chinese prison. Norbu, the chief warden, led us (sans cameras) through the infamous Drapchi prison on the outskirts of Lhasa. There were 700 prisoners, of which about 100 (40 nuns and 60 monks) were religious prisoners. At first, Norbu refused to allow us to meet any of them. Rabbi Schneier stood firm. "We're here by the arrangement of Presidents Jiang Zemin and Bill Clinton and will not leave until we do," Schneier said. Finally, the warden relented, and two nuns in their 20s and 30s were summoned. Their weathered faces revealed years of hard labor in the harsh climate at the top of the world. Their crime? "Violations of state security," one of the nuns answered. In other words, they had taken some action to affirm the spiritual and political authority of the Dalai Lama. Their sentence? Four years. I wondered how many Christians in the United States would risk prison by publicly calling Jesus their Lord over both spiritual and political realms.
Despite our requests to the Justice Ministry, not a single religious prisoner was released during our visit. (Shortly after our return to the United States, Catholic Bishop Zeng Jingmu was transferred from labor detention to house arrest.) Although Chuck Colson of Prison Fellowship says that "in some camps, up to 40 percent of the prisoners are serving time for membership in underground churches," no one really knows how many religious prisoners are held throughout China. As of early March, there was still no evidence that the targeting of unregistered churches for dispersal and elimination—and accompanying arrests—was abating.
At the end of our journey, a Chinese political officer who had accompanied us for three weeks said, "The clerics are more interested in politics than religion." From his vantage point, asking about religious freedom is viewed as a political, not a religious, issue.
I told another political officer a story. An American stood in Moscow's Red Square and boasted, "In our country, we can shout 'Down with Reagan' in front of the White House." The Russian said, "We can stand in Red Square and do the same thing, shout 'Down with Reagan.'" The Chinese government official laughed out loud, and then whispered, "Just like it is here."
The government has long assumed that the motive of the Christian church is actually political dissent. But most Chinese Christians simply want to practice their faith in peace. Old attitudes die hard. Nobody said building spiritual bridges would be easy.
"We need your prayers..."
A crowded state-run department store, shoulder to shoulder with people, is a good way to get lost. It's also a good way to lose anyone following you. In the back of a noisy restaurant, we sat down with a pastor and his wife. They were nervous even to meet with us, but they ordered a cup of soup and began to tell their story.
"When they discover you're not registered, the police come and shut [the church] down," the pastor said. "Those who are disobedient are taken away. Most are kept for two to three years of 'education through labor.' The family members suffer when people are arrested, but other brothers and sisters try to take care of them."
The pastor added, "Lately, there have been no arrests in our city because of your trip. We need your prayers."
The Church Walks a Tightrope
Over dinner with the China Christian Council in Nanjing, I mentioned that I was living in Taiwan when Chiang Kai-shek died, and that I had heard his famed pastor preach on many occasions. "We were students in seminary together," responded the professor seated next to me. "What about pastors such as [house church leader] Xu Yongze?" I later inquired. The professor replied, "He's a cult leader and deserves to be in prison."
This is often the rationale for the government's treatment of church leaders who refuse to register. I told my host that our delegation strongly disagreed, and had brought up Xu's three-year prison sentence with all the authorities in Beijing. The tension of living in a country where the officially atheistic Communist Party rules means the church walks a tightrope. Christian brothers and sisters are pitted against one another. We tell them that the church is more than just the government-sanctioned bodies.
At the seminary, professors spoke optimistically about a new sense of freedom, so I asked, "Does anyone try to edit your sermons?" One individual said no, but afterward another pulled me aside and whispered, "You ask a good question. I wish we had more time to talk." With a half dozen government officials in the room, it was hard to get at the truth.