Just as the long legacy of violence in Guatemala was changing, that country lost another voice for truth. On April 26, Monseñor Juan José Gerardi Conedera, the Auxiliary Bishop of the Archdiocese of Guatemala, was brutally murdered in his home. Days earlier, Gerardi's human rights project released a report titled Guatemala: Nunca Más (Guatemala: Never Again), which blames the Guatemalan military for the majority of the 150,000 deaths, 55,000 "disappearances," and 422 massacres that occurred during the country's 36-year-long war, which ended in 1996.
Guatemalan Rigoberta Menchú, Nobel Peace Prize laureate, said that "there is no doubt that the assassination of Bishop Gerardi is a political crime" and that the killing is a warning that the culture of violence in Guatemala has not changed.
"Truth is the primary word," Gerardi said upon the release of Guatemala: Nunca Más, "...that makes it possible for us to break this cycle of death and violence and to open ourselves to a future of hope and light for all."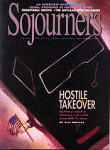 This appears in the July-August 1998 issue of Sojourners
Got something to say about what you're reading? We value your feedback!