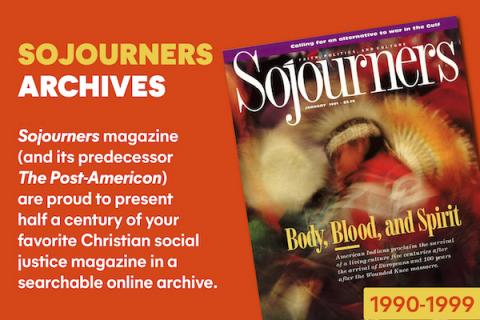 Miriam Therese Winter is giving visitors a tour of Hartford Seminary, where she is a professor of liturgy, worship, spirituality, and feminist studies. Outside her office door lies a large, orange stuffed toy lion she salvaged from a dumpster. A toy lamb is sitting on the lion's back. She stoops and nestles the lamb between the lion's paws, up against its jaw.
"Someone always moves it up on the lion's back. I guess they think it looks like the lion is going to eat the lamb. But Isaiah says all natural enemies will lie down together after all. Shouldn't we act as if we believe the unlikely promises of God?" she asks.
What does it mean to live as if? What if we tried to make a reality of the radically liberating message found in the writings of the Hebrew prophets and the gospels? What if we let our sacred metaphors and images be alive? What if we believed God is untameable by our words or worship, uncontrolled by our fear or prejudices? Where would we find ourselves?
Questions such as these have taken Winter, a Catholic woman religious, teacher, author, songwriter, and liturgist to places as far-flung and unexpected as Cambodian refugee camps and the faculty of a Protestant seminary. Such questions have unified for her the work of liturgy and imagination with the work of seeking structural change and serving others. They have led her from acknowledgment of the experience as a woman of oppression and prejudice to the struggle against all injustice.
Where these questions have not taken Winter is away from her Christian faith or out of the church. Meeting other women who, like herself, identify themselves as feminist and Christian intrigued Winter enough to lead her to explore more deeply why and how such women remain in the tradition.
"We knew there were feminists in the churches because we met feminists everywhere!" Winter told us. This experiential knowledge prompted Winter, along with Adair Lummis, an Episcopal sociologist and Hartford adjunct faculty member, and Allison Stokes, a United Church of Christ minister, to envisage the survey that led to their book Defecting in Place.
They devised a study that asked the questions Winter has heard over and over as she speaks around the world about religion, justice, and spirituality: "Why are you in the church? What are your issues with that? How do you integrate feminism with your traditional denomination?"
Winter explains that the sample used for the study was as "diverse as possible." Women representing mainline Protestant, Catholic, and other denominations were interviewed. Special efforts were made to include Asian, Latina, and African-American women, but Winter is careful to point out that the study was "a first step that was necessarily limited" in the numbers of minority women who participated. However, she is hopeful that "just getting the questions and issues out there" will create "a dialogue in each of the separate minority situations."
The responses collected in Defecting in Place clearly demonstrate that a significant number of women across all denominations feel estranged from their church (see excerpts on this page). The reasons for alienation have a striking conformity.
"Similarities, oh my word yes!" Winter exclaims. "I think that the over-arching issue of concern is that religion is not welcoming of spirituality. We grew up with the understanding that religion delivered your spirituality—through your religion you found God. But that is no longer true because women know God in ways that the tradition will not honor." Many women described how involvement in a women's spirituality group, often ecumenical, had been their lifeline amidst involvement in alienating institutions.
The biggest surprise for the authors was "not that religion and spirituality are at odds or that women wanted inclusive language." Winter leaned forward intently to make sure we understood the portent of her words. "What we were surprised at was the large percentage of women who do not intend to leave the tradition even though they are struggling with finding a place for their way of being and behaving in relationship to God. That's where we took the title Defecting in Place. It means we're staying where we are, but not as we were."
"We were surprised," Winter stressed, "because it went against the prevailing assumption that once women become radically feminist and get involved in these groups of women they exit the church. It is just the opposite." With a conspiratorial laugh, she adds, "I think the preference by the hierarchy would be that women would just leave, and leave everything alone. For we're staying with our new understanding that church is not just institution—we are the church. And it is our dream that we will transform the structures of power so that the church becomes a community of energy and commitment from which we can go out to transform society."
WINTER INTIMATELY understands the story and struggle presented in Defecting in Place. In 1955, she entered the Medical Mission Sisters intending to become a doctor in Africa. She remains in that community, but as she puts it, "God redirected my life within the Medical Mission Sisters and gave me this other call toward a different way of healing."
She marks Vatican II as a significant point of change in her life. "Before Vatican II, I really could say I lived within the lines and believed everything I was told in terms of theology. If I didn't respond positively then something was in me that needed changing."
Gradually Winter came to a new view of the church, not only pushing back boundaries but "erasing the lines and giving rise to the questions that were always there." She explains, "I was always a kind of imaginative, poetry writing person. I began to take it more seriously and invite it into a public arena. The Medical Mission Sisters are women who are deeply rooted in the liturgy and who've always sung. It was the time of Peter, Paul, and Mary, so I picked up a guitar and began to sing songs, taking the scripture of the day and applying it to our lives."
Winter's songs opened up a whole new world. Her first album, Joy is Like the Rain, immediately became popular in diverse settings. Winter toured the United States and the world singing with Mennonite and Baptist, Filipino and New Zealander. "The experience of being with people of all denominations blurred the doctrinal demarcations of earlier years," she explains. "I would never have imagined myself sitting in a hut in Ghana with a traditional healer talking theology. We grew up with such boxes and walls around us."
In the course of tours to promote Medical Mission Sisters albums, "You would sit around the kitchen table with strangers and get questions like, 'Who is God for you? You're the first Catholic woman we've ever spoken to and certainly the first sister. Tell us what you really think.' We would go in as strangers and leave with our arms around each other, singing and praising in tears."
While Winter has been exposed to a wide range of influences, with degrees from McMaster (Baptist), Princeton, and 18 years of teaching at the ecumenical Hartford Seminary, she remains rooted in her Catholic tradition. When asked why she stays in the church, she responds by first amending and refining the question. "First of all, I don't stay within. That's not the terminology I would use. I am the church. We are the church. And then, where would one go? Nothing's perfect.
"I try to live faithful to the Spirit in the tradition in which my roots are planted. But I don't just follow the path. You make the path as you go toward the destination, and in some ways remake the maps. I find the challenge of that exciting. Blessings come with new insights that fit within the tradition, even though the tradition doesn't yet understand it."
Throughout her life Winter has remade the maps in a variety of ways. She is deeply aware of the immanence of God in all facets of life, an understanding that energizes her journey to push the boundaries of fear and prejudice. She is passionate about justice, liturgy, and the Bible and returns from her explorations as woman witness to God's living story in our lives.
While Winter expresses a deep appreciation for the community and liturgy she grew up with, she laments the aspects of traditional services that are "constantly drawing us away from ourselves and into another time, and not giving us a process for returning. That is not what the scripture's telling us. The scripture is saying in the midst of ordinary life, God is there.
"The point is, Where is God in your ordinary life? People can't find that God because we are not given opportunity to look in ways that might relate to the life we are living. So we meet every Sunday and people go home. That's it. That's why the hunger for a more permeating spirituality is profound, not only in women but also in men. We need to find ways that we can make ritual and do liturgy right in the midst of where we are in this modern world, with all of its complexities."
So she began to compose liturgies that are celebrations of life lived. They incorporate language for God that reflects the reality of her life. "Relational language that includes women as well as men is really step one. Then there is a whole terrain we must address of language that excludes persons with disabilities and persons of color. All the metaphors for darkness are negative or black, and all the God metaphors or salvation metaphors have to do with walking in the light. Language shapes our behavior and our attitudes and keeps in place the way things are."
Winter's own concept of God has changed profoundly since her youth, when God was "the white male in the sky, the grandfather image, the protector." She doesn't dismiss these images, but they are no longer formative for her. Rather she is deeply moved by others that evoke that women as well as men are created in the image of God, and the mystical sense that "all life images something of the sacred."
"The Bible is full of many non-gender images and metaphors for God. The Bible also has many female images, metaphors, and names for God. The scriptures we looked at [in traditional liturgies] were the ones lifted out by the lectionary or an individual. They were always the ones that seemed most appropriate and important to the selector—and the selectors, by and large, were not female. They were men, and they followed the traditions established by men prior to them.
"Where are women in those texts? Where is our story? What does it mean? I asked, What would we celebrate if we started to celebrate?" Winter gathered references to women in the Bible and composed prayers for her popular trilogy, WomanWisdom, WomanWord, and WomanWitness, which presents "every single story of every single woman of the Bible."
In her work, Winter calls on the imaginative Spirit to fill in the blanks that beckon her. She has written a number of texts that reclaim biblical stories. "There are persons who feel that the Bible cannot be redeemed for them. I would say that there is more to the tradition than the negative and patriarchal, just as there is more to life now. There is hierarchy and patriarchy, but there is also power and beauty. We have 2,000 years and more of tradition, and it is not all squished into those texts." Winter is clear that research, imagination, and praxis are required to flesh out scripture as a living reality for women.
WINTER DESCRIBES herself as a "radical feminist," firmly refusing either reflexively to distance from or capitulate to the stereotypes that cling like barnacles to the term "feminist." "People ask, Why do you keep the label? My point is that if you change the label, you are categorically lopping off all the women who enabled us to get to where we are now, consigning them to the dustbin of anonymity [just] because they did not come out of their profound oppression gracefully, but had to fight their way out. All kinds of things have changed thanks to the women who did this. [And] we end up with the stereotypes of any oppressed people who are fighting for liberation. If it gets messy, we dismiss them for being a mess and messing up our lives."
Feminism has given Winter key principles and experiences that drive her work for justice for all people. "In the beginning, one starts with where one is as a woman and realizes that one has been excluded, disempowered, and disadvantaged. From that experience one tries to change one's reality, [then] connect with others so that in solidarity we can make the larger changes. I would simply say that feminism is about making room at the table for all people. Feminism is not just for women only. It's for women and men and children."
This feminist-based drive for inclusive justice is integral to her Christianity, her liturgies, and her approach to teaching. Winter emphatically rejects ivory tower syndrome. "It's just amazing that there is a dichotomy between academics and personal service. I don't think I could write, teach, imagine, or function without that dimension of commitment to those made poor.
"I've come to understand the deep integral connection between hunger of the heart and hunger of one's whole being. Physical hunger and hunger for meaning, for love, for opportunity, for the future—it is the same hunger. When I look to Jesus, I see a Jesus who spent a lot of his time and energy addressing or being present to the hungers of humanity. So much of what he did was around a table or by the lake with food. Some of the deepest learnings were passed on that way."
Winter uses Jesus as her model for the integration of study and action. She has served with her order in Cambodia and Ethiopia, and while in the United States does not function solely as a professor. She maintains a commitment to female prisoners and children in need in her area.
When Winter teaches she avoids simply "depositing knowledge into others." During eucharistic liturgy courses, she sends her students "out in the city to take a homeless person to lunch so that they can sit at the table as equals." When the praxis and theory of theology are undertaken at the same time, Winter marvels that her students move from "praying for 'the homeless' to praying with someone they know by name who also happens to be homeless." Winter concludes that "academia should and must include experience and imagination."
Winter also often speaks on issues of faith and justice in secular society and in the church. Her warmth, vitality, and utter conviction that God is present in every aspect of life endear her to audiences around the world. And her Christian and feminist commitment to the need for structural change to address all forms of injustice comes across loud and clear.
In her speaking and teaching, she wrestles with the intricacies of trying to cross boundaries of class, race, gender, and culture, even within the shared territory of faith. She doesn't gloss over the difficulty of cross-cultural work, acknowledging that "multi-diverse groupings are not easy to come by. We can hope for it with all our hearts, but that becomes my agenda as a white woman or a Christian or a nun or a missionary."
"My cherished place is in the midst of great diversity," she explains. "But one has to be sensitive or smart enough to know that we all come from radically different places, so that being in the midst of great diversity is not going in with my own agenda, just whatever the Spirit's agenda is." Her goal is to be "a catalyst for whoever is there to be who they really are. So the sum total of the experience is that all of us are enriched because we've had a glimpse, a truthful glimpse, of the honest diversity here. And diverse does not have to be divisive."
She speaks movingly of a time she spent with gay and lesbian Christians, half of whom were former Catholics. "Imagine the courage of them even inviting me in—a white, straight sister to lead them in worship! Those experiences are grace and blessing for me."
During her time at Hartford, a commitment has been made to increasing diversity among the small faculty there. For example, the professor of Hebrew scripture is an African-American woman, Judy Fentress-Williams. The professor of New Testament is Efrain Agosto, a Latino and evangelical. In addition, the seminary has a black ministries certificate program, a center for the study of Islam and Christian-Muslim relations, and Winter has helped found a women's leadership institute there. The seminary has come to reflect better the reality that the body of Christ is complex and varied, composed of women and men, of all different races and cultures and classes. As Winter puts it, inclusiveness is the "air we breathe here."
If Winter's primary vocational commitment is to nurturing and strengthening women in the church, conversation with her makes clear that she sees this call as intrinsic to her concern for the whole body of faith. Like all bodies, it must move or atrophy. Winter both knows the Spirit has given her a unique song to spur such movement, and that she is not alone. Of such is the power and joy of God, and hope for us all.