THE MORE I READ the story of Jonah nestled among the serious Minor Prophets of the Old Testament, the more fantastic and hilarious it gets. Everything is turned upside-down.
Jonah's story follows Amos, who rips into rich people who "lie on beds of ivory and lounge on their couches." It precedes Micah, whose Lord calls us "to do justice and to love kindness." But Jonah spends his energy running away from Yahweh. In fact, Jonah is never even called a prophet in the book that bears his name. His interests and concerns are completely different from the Deity who has called him. Only entombment inside a "great fish" will drive his bedraggled, stinking self to the city that needs to repent. Even so, Jonah will perceive his surprising success as an utter failure.
But that's getting ahead of the story. Most Hebrew prophetic books are collections of oracles unmoored to narrative, but Jonah's tale has a setting, characters, and a plot! If you didn't learn this in children's Sunday school, here are the bare bones of the action:
Yahweh tells a man named Jonah to go east to the city of Nineveh to cry out against its evil. But Jonah flees in the opposite direction on a ship traveling west. A huge storm blows in, so when Jonah says it's his fault, the sailors reluctantly throw him overboard. The storm immediately stops. A "great fish" swallows Jonah for three days and nights. Then God makes the fish vomit Jonah out on dry land.
In part two, Yahweh repeats his original imperative: Go to Nineveh and warn them of destruction. Jonah does so, expecting a fireball from heaven to burn the city to the ground. Instead, the king repents of his evil and asks all his subjects, as well as the animals, to demonstrate repentance by wearing sackcloth. So God changes God's mind and does not destroy Nineveh. Jonah is angry because the Ninevites do not get what they deserve. He sulks under a bush God creates for him. The ensuing conversation underlines Jonah's resistance to the merciful and loving character of Yahweh. The ending is ambiguous.
Read the Full Article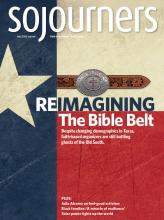 ​You've reached the end of our free magazine preview. For full digital access to Sojourners articles for as little as $3.95, please subscribe now. Your subscription allows us to pay authors fairly for their terrific work!
Already a subscriber?
Login