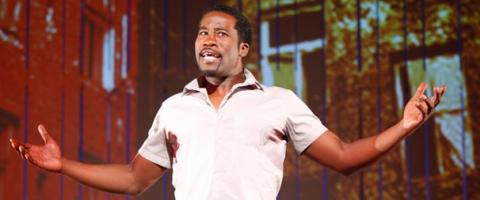 "I AM A storyteller," says Daniel Beaty, "and my purpose in the world is to inspire people to transform pain to power."
He was first inspired to share his stories when his third-grade teacher showed a videotape of Martin Luther King Jr.'s "I Have a Dream" speech. Now as a writer, actor, singer, teacher, and motivational speaker, his storytelling is expressed in a dizzying array of different forms and outlets. The week in April that Sojourners' editorial assistant Rebecca Kraybill interviewed him, Beaty was doing daily performances in Los Angeles of a one-person play he wrote on the life of performer and activist Paul Robeson, "The Tallest Tree in the Forest" (in which he plays 40 characters and sings 14 songs) and, during the day, taping for a Ford Foundation-funded documentary on work he does with children of incarcerated parents.
This was just a fortnight after Beaty finished a six-week speaking tour in support of his memoir, Transforming Pain to Power: Unlock Your Unlimited Potential (Penguin-Random House). He's also the author of a children's book released in December 2013 by Little, Brown and Company, Knock Knock: My Dad's Dream for Me, with graphics by award-winning illustrator Bryan Collier, which is an adaptation of a poem Beaty wrote about his experience growing up with an incarcerated father. "Knock knock down the doors that I could not" is one especially poignant line the father in the book writes to the son; it carries a call to healing and liberation that is found in all of Beaty's work.
Kraybill talked with Beaty about the effects of mass incarceration on families, the power of a "theater sanctuary," and how the arts call us toward "the capacity to do better."
Rebecca Kraybill: Many people were first introduced to your work through a YouTube video of the Def Poetry Jam performance of your poem, "Knock Knock." What inspired that poem?
Daniel Beaty: My father has been a heroin addict for most of my life and was a heroin dealer at some point earlier in my life. He's been in and out of prison 59 times. My father's incarceration and addiction at an earlier phase in my life caused me to believe certain things about myself and what my future could be. Much of my journey has been aligned to heal me around those feelings, to allow God to truly be a father to the fatherless. And to teach me that, through God's love, I could create any kind of life I wanted, regardless of the environment or the choices of certain people in my life.
When did writing first become a meaningful vehicle of healing for you?
I've been writing since I was very, very small. My mother actually found a sheet of my childhood handwriting on the notebook paper with the big lines you use when you're young. It said, "poetry," "music," and "drama." I also found a book of poetry that was one of my father's school books. It had his notes scribbled in the margins. My father, despite his addiction, was brilliant; he graduated summa cum laude in English from the University of Dayton. With him in prison, that book of poetry was a way that I felt connected to him.
What messages do you hope to convey in your children's book, Knock Knock: My Dad's Dream for Me?
Though my personal story was my father's incarceration and addiction, many children deal with loss for a variety of reasons, ranging from incarcerated parents, to death, to divorce, and beyond. I wanted to tell a story where parents have a tool to explain or discuss this idea of loss with their children, but not to stop there—to say, despite the absence of a parent, you still can create the most extraordinary life possible for yourself.
As one reviewer said, children's books are not just designed to reflect a child's experience. They're designed to open children up to experiences different than their own. There are 2.8 million children of incarcerated parents in this country; that means many children have a friend or a classmate whose parent is incarcerated or absent in some way.
In Transforming Pain to Power, you write about the concept of an authentic self—how would you describe this concept?
Personally, as a Christian, as a believer, for me the authentic self is synonymous with the Holy Spirit, the presence of God within. In God's enabling grace, that's the deepest part of us that is powerful: It can achieve, accomplish, heal, anything challenging that shows up in our lives. Unfortunately, many people have been abused by their church experience or are hesitant to identify with Christian concepts. So in the process of writing Transforming Pain to Power, this [nonsectarian concept] of the authentic self came to me. It's a place of safety inside ourselves that allows us to not get lost in the barrage of negative thoughts and feelings that often shows up in our lives, but to connect to a deeper part of ourselves, so that we can still be empowered.
What projects are you working on now that especially fuel your passions?
We're doing a documentary to highlight the impact of mass incarceration on children and families. I also do a lot of work within communities using the tools of storytelling to help young people heal trauma. I'm doing work in Watts, Calif., which is where the Crips and the Bloods, and a lot of gang violence, were first rooted—as well as scaling that work to other cities around the country, including Boston and Omaha.
Given your experience as a child of an incarcerated parent, what changes do you think need to happen in our prison system?
One, we have to focus much more on transformative or restorative justice. What kind of people are we being if we see people commit a crime—which is often committed out of some type of need, pain, or systematic inequity—if we don't then create a space where people can be transformed or restored to their best selves during incarceration?
In terms of the system, mass incarceration is such a corporate proposition right now. There needs to be real rigor in terms of policies, and in terms of media really highlighting the systematic injustice of mass incarceration, the outdated drug laws, who's profiting, and who's being incarcerated, and things like "stop and frisk." It's a hugely out-of-balance system.
How do you find hope as you work on this issue?
One of the reasons why I'm doing this documentary on children of incarcerated parents is I want people to see firsthand the emotional impact that mass incarceration has on children and families. People might think that since a person committed a crime, he or she deserves to be punished. But when you look at children, then you start to have a conversation: Oh, that family has been broken, or the next generation is hurting because of something that they're not responsible for. We begin to ask ourselves, what kind of nation are we creating with some of these fatherless/motherless children?
Media, television, and film are seriously powerful socializing tools. We normalized incarcerating so many of our brothers and sisters. But when we start to show images of the real impact of mass incarceration, we realize that it's not normal—it's actually inhumane. I believe people care. But sometimes we have to be reminded of the best of who we are and our capacity to do better.
How have you experienced the power of transformation through the theater?
Theater is almost like a sanctuary. It's one of the few places, other than church, where people gather to have an experience as a community. One person, in the case of a solo show, or a group of people, in the case of an ensemble play or a musical, stand before a group to lead them into that experience, to provoke them to think, often to uplift and inspire them. In a world with so much technology, it's vital to have the dramatic arts to remind us of that special energy that can exist between people in live performance.
One of the biggest messages I try to communicate inTransforming Pain to Power is that we first must get present to our pain and ultimately transform it by asking ourselves: What can I do? What can I contribute to others, contribute to the world? In the process of being a storyteller, and certainly in my live performances, I have the hope of transforming my audience in some way, but I'm also transformed in the act of the sharing. We're all wounded healers. As we share our stories, we help others heal. I think God heals us.