As a campus pastor I meet with many students each week. I wanted to thank you for your article on the story of Philip and the Ethiopian eunuch ("What is to Prevent Me from Being Baptized?" by Reta Halteman Finger, April 2014). In the past week I have talked with two students about this article and was able to share the hope, promise, and love of God through these words and this incredible story. One student identifies as transgender and was particularly moved by this piece. Thank you for your work and ministry. I am so grateful for Sojourners.
Name Withheld by Request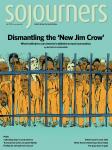 This appears in the July 2014 issue of Sojourners
Got something to say about what you're reading? We value your feedback!