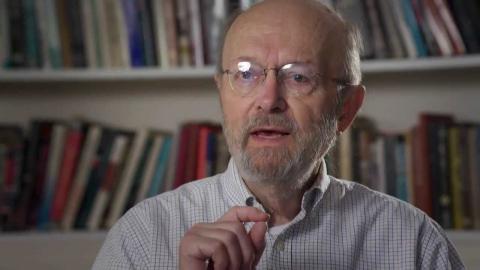 MY DEAR FRIEND Glen Stassen passed away on April 26. Glen was a key ally, a kindred spirit, and a deeply respected member of the Sojourners board. In my view, Glen was the most important Christian ethicist of his time because he taught us what it means to follow Jesus.
Many years ago a tall, thin, and very bright young man came to visit Sojourners community in Washington, D.C. He told us he was an ethics professor at Southern Baptist Theological Seminary, and that he wanted to live with us and volunteer serving the poor. Glen stayed in one of our households and served on our food line, distributing bags of groceries to low-income families just 20 blocks from the White House. From my first conversation with him to the last, Glen Stassen never stopped talking about Jesus—and how Christians must not just believe in Christ in word but also follow him in deed. His most influential book, Kingdom Ethics, co-authored with David P. Gushee, was also the passion of his life and work.
Before Glen became a professor, he had a promising career in nuclear physics. He loved his work, but he was not willing to work in weapons development so he left to attend seminary and become a biblical scholar. Eventually, Glen formulated a powerful vision of "just peacemaking." Using the creative and critical practices of conflict resolution, Glen's framework guides us toward effective and faithful actions to both prevent and end wars.
In everything he did, Glen sought to bring Christian ethics to public life. Working with Glen on the Nuclear Weapons Freeze Campaign, I quickly discovered that he was not just an ethics theorist but a gifted practitioner who knew how to mobilize movements and change public policy. As a true disciple of Jesus, Glen wanted to change the world.
I HAD THE great blessing of offering the opening prayer at his funeral. Here is what I prayed:
"Oh Lord, thank you for Glen Stassen. Those of us gathered give thanks for a husband, father, grandfather, uncle, teacher, mentor, friend, ally, and co-conspirator for the ethics of the kingdom of God in this world. Thank you, Jesus, for how Glen Stassen understood that you want to change the world, and not just our own lives, but beginning with our lives.
"Thank you for how Glen taught us not just to believe in you, but to follow you—without our many equivocations, our theological restrictions and dualisms, and our political compromises. Thank you for how he understood that the kingdom of God requires social, economic, and racial justice. Thank you for how Glen explained to us the realistic meaning of your words 'Blessed are the peacemakers, for they shall be called the children of God,' and how he found the 'transforming initiatives' in the Sermon on the Mount that change the world.
"Glen Stassen moved us from our thin private piety toward a 'thicker Jesus.' He moved us from belief to discipleship—incarnational discipleship—where faithfulness must stand the test of history. He moved us from just peace loving to just peacemaking—a vision that takes us deeper and further than the church's academic arguments about war and peace. He moved us from thinking to acting—from talking about Christian ethics to doing Christian ethics. As a professor he moved from only teaching to also mentoring, as many here today can testify.
"Glen Stassen taught us what the incarnation meant—that God hit the streets in Jesus and that following Jesus means that we must go into the streets too. Pope Francis is now reminding us of the same thing. Oh, the conversations Francis and Glen might have had!
"We thank you, God, that Glen loved Jesus so much that he actually wanted to follow him and ask us to follow Jesus too. He lived the truth of these words by Clare of Assisi: 'We become what we love, and who we love shapes what we become.' Glen lived long, but we all feel today that his time with us was cut short. But now he goes to be with you, Jesus, the one he so loved and wanted to follow. We pray that he will now know your rest and peace, the peace of Christ, knowing that the impact of his life will go on, through the countless people that he taught, near and far, as a real professor of Christian ethics.
"Glen will live on through us and, especially, through the new generation he took under his wing—to nurture, encourage, and empower. We love him and miss him already. But now we give him back to you. He called us to go deeper into our faith, and we will, enabled by his ideas, passion, and spirit.
"For the gift of Glen Stassen to us, and to the world, we give you thanks. And all the people said, Amen!" 
Jim Wallis is editor-in-chief of Sojourners.