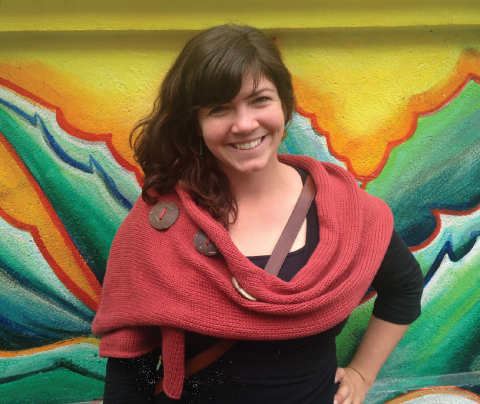 Bio: Katerina Friesen is studying theology and peace studies at Anabaptist Mennonite Biblical Seminary in Elkhart, Ind.
1.  How would you describe your current vocational role?
I see my role as both revaluing what has been cast down and degraded and building resilient communities. So far this has taken shape through land-based ministries of farming and community gardening, inviting people to work together and celebrate the sacramental in soil, food, and one another.
2. You spent several years with the Abundant Table Farm Project in Santa Paula, Calif. Can you describe the project and your role there?
The Abundant Table Farm Project is a working farm and young adult internship program that has evolved into a Christian community. I joined the project in 2009 and lived in community with four other women. My daily work of farming gave me a bodily understanding of farm workers' labor and the need for justice and wholeness in our incredibly disconnected food system.
3. What is unique to the theology of farming—particularly for women farmers?
Women are growing in the field of agriculture in the U.S., especially at the margins of the industrial food system, and they're doing farming in a very different way. Many talk about their labor as a form of love. Their theology of love is not some abstract idea; it's an embodied force that feeds them in their struggle for justice, since their work brings them into tension with the dominant food system as well as with patriarchy. I think Jesus' incarnation challenges us to know love as personal action for the restoration of life, as doing and not just being.
4. How do you define land-based ministry? How can it connect to larger issues in the church and world?
Every ministry is based on the land if it is located somewhere, but land-based ministry makes the land central to a vision of shalom for its particular place and community. The assumption is that the health of people and their environment are integrally connected, and the church can participate in reconnecting those ties that have been broken.
Farming and gardening are two main ways I've been involved in land-based ministries, but I don't think these are right for every context. Other ministries include ecological restoration projects, "rewilding" church properties, caring for the local watershed, providing free meals using produce from local farms or people's gardens, and community kitchens. Gleaning is another big one that is too often overlooked. The possibilities are really exciting.
5. What are you planting in your garden this season?
I am so excited to be at a seminary with a campus community garden. I just bought seeds from a local farmer who is experimenting with varieties of legumes and grains. I also have some onions and kale that I'm trying to start by my window sill—not very successfully—and will soon be seeding sweet peas, beets, carrots, and chard.
—Interview by Rebecca Kraybill