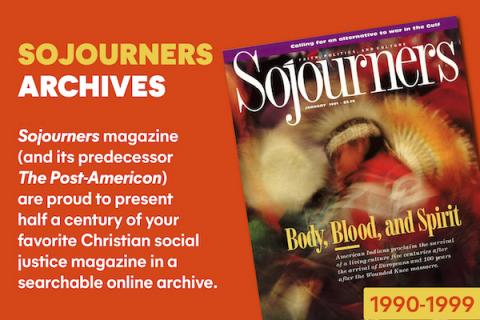 The life and writings of William Stringfellow, a Sojourners contributing editor until his death in 1985, have greatly influenced Christian peace and justice movements, communities, and theologians. He was especially instrumental in developing a theology of the powers and principalities. Students of Stringfellow know, however, that it is difficult to secure copies of his books, as all 15 of them are now out of print.
Bill Wylie Kellermann, one such student and also a Sojourners contributing editor, took on the task of editing and compiling a Stringfellow ôreaderö so that his influence could be preserved and even reinvigorated. A Keeper of the Word: Selected Writings of William Stringfellow (Eerdmans Publishing Co., 1994) is the result of Kellermann's labor of love. What follows are excerpts from the compilationùa portion of the introduction by Kellermann and a selection from Stringfellow's 1966 book, Dissenter in a Great Society. -- The Editors
Although he sometimes smarted under his recurrent designation as a "lay theologian," and even though he wrote some 15 books and scores of theological articles (no small volume given his fragile and often perilous health, his work as a lawyer, or his political and pastoral involvements), William Stringfellow never considered himself to have a vocation as a theologian. Even less did he envision a theological "career." Writing theology was something he did. It was part of his work. He suffered it. He enjoyed it. He spent himself offering it as a gift, sometimes unwelcome, to the church.
Likewise, though he was trained at Harvard Law School, and practiced first in Harlem and then on Block Island, much the same may be said of his work as a lawyer. He did not count it his vocation, nor did he brook any career. Careers, as a matter of fact, he counted among the principalities. As he put it succinctly, in his conversion he "died to career."
His vocation, he thought, was to be William Stringfellow, nothing more and nothing less. And he understood all human beings to enjoy a comparable vocation: to be who they were called in the Word of God to be, to live in the fullness of their humanity, to offer their gifts renewed. Those who knew or heard or read Stringfellow will largely concur: He was faithful to his calling.
Stringfellow would be pleased, not surprised, that his work should be compiled into an edition such as this. By the time of his death in 1985 all but his last book were out of print. Now everything is. That may be attributable, on the one hand, to the principalities and, on the other, to his practice of theology.
I do not suggest that his books were systematically suppressed (though neither would I preclude it), but merely note that publishing houses are corporate powers, many rapidly being devoured by media conglomerates and even larger commercial fish. In such an environment, publishing institutions distort or even forget entirely their original vocation to serve the church, say, or human society at large, by bringing the truth to light and sustaining it even at some risk or cost. Their ethic comes to be one of "survival," as Stringfellow notes, and their service is in bondage to the idols of profit and efficiency.
On one occasion, when Instead of Death (1963, 1976) was republished somewhat later in an expanded second edition (the only instance of that), the publisher submitted the title to computerized scrutiny and declared that the word "death" must be removed or replaced if it were to sell adequately in the market then current. Stringfellow resisted the technocratic muscling, and death went by its proper name. In any event, market logic is in general unlikely to serve good theology. We may be gladdened that a handful of publishers honor the vocation and refuse the spirit of conglomeratization.
THE OTHER CAUSE may be the nature of his theology. Stringfellow's writing was not systematic in the academic spirit of abstraction that renders such work, even the faddish varieties, "timelessly" above history. His was engaged, as they say. Or empirical, as he was inclined to put it, or even incarnational, to use the orthodox terminology. When he wrote theology it was full of examples from the moment; more precisely it grew out of those events, personal and historical, which were his examples. So a conversation with an addict, a civil rights case, local political dealings on Block Island, the state of the war in Southeast Asia, the actions of the incumbent regime, or a public liturgy of the resistance movement; such things as these are woven into his theological observation. They give the appearance, falsely, of being time-bound and dated. And books are too soon remaindered.
This is, however, the necessary nature of theology in biblical practice. I suppose that the chronicles of Israel, or the prophetic utterances, or the letters of Paul, or the gospels themselves are equally "dated." They are engaged and concrete; they discern and tell the Word in lives and history.
Perhaps the best example of this is Dissenter in a Great Society (1966). As the title intimates, it is a social critique of Johnson-era events and mythology. So it includes treatment of the 1964 Republican Convention or reflections on the civil rights movement or the failures of the "War on Poverty." Yet read against the resilience of resurgent racism, against events like the Simi Valley verdict and the Los Angeles uprising, its reading of racial crisis is remarkable prescient and prophetic. Its theology, above all, endures and abides.
Or again, for several years now I have been using An Ethic for Christians and Other Aliens in a Strange Land (1973) in a course on urban principalities. Written in the early 1970s, it is rife with examples from the era of the Nixon regime. Yet whether we read it during the Gulf war or a Chicago election, these seminary interns are almost startled. "Who is this guy?" they say. "And how can we have gotten through seminary without ever hearing of him?" Indeed. —Bill Wylie Kellermann
It is sometimes asserted that the church should concern itself only occasionally in public affairs, where society is confronted with a "moral" issue. The problem with that view is that it oversimplifies the moral conflict in the world. There is no issue in society that is not a moral issue in both the transient human sense and also as one that God judges. In a fallen world, all human beings live at each other's expense, and every decision and action, even those that seem trivial or only private or unambiguous, is consequentially related to the lives of all other human beings.
What you or I decide and do affects all other people, and every decision or action or omission is thus not only a moral but a theological issue, a sacrament of one's responsibility for and love for one's self and others, or else a sign of one's disregard for and alienation from one's self and everyone else. Indeed, on the Last Day, though not before, God's own judgment of every act, word, and deed of every person will expose the true moral disposition of each in relationship to all. Meanwhile, each of us must make our own decisions, knowing that each decision is a moral decision with consequences for all other people but not knowing what many of those consequences are or will be until we are judged by God's mercy. Meanwhile, all Christians, remembering their baptisms, must take their stand in the practical affairs of this world in fear and trembling.
But if there is no option of withdrawal, if silence is a form of involvement, if default abets the winning side, if all are in fact involved, how shall Christians and how shall the church be responsible in their political involvement? How shall they be involved and yet remain unstained by the world?
Surely the answer to that is: in the very manner of Christ's own ministry in this world.
THERE IS NO convenient set of rules, no simple blueprint, no simplistic ethics of decision for the Christian. The Christian witness in society does not consist of praising and practicing the "Golden Rule," which, after all, is a secular ethic of self-interest that demeans the essence of the gospel. But there are at least some clues about the style of witness characteristic of the Christian life in the world, both for the church as such and for the individual member of the church.
(1) Realism: Christians are those who take history very seriously. They regard the actual day-to-day existence of the world realistically, as a way of acknowledging and honoring God's own presence and action in the real world in which human beings live and fight and love and vote and work and die. And Christians know, more sensitively and sensibly than other people, that this world is a fallen world, not an evil world but the place in which death is militant and aggressive and at work in all things. Christians know that in this world in which, apart from God's work in all things, death is the only meaning, all relationships have been broken and all human beings suffer estrangement from one another and alienation from themselves. Of all people, Christians are the most blunt and relentless realists. They are free to face the world as it is without flinching, without shock, without fear, without surprise, without embarrassment, without sentimentality, without guile or disguise. They are free to live in the world as it is.
(2) Inconsistency: Christ-ians, in their fidelity to the gospel in their witness in this world, will appear inconsistent to others in public views and positions. They cannot be put into a neat pigeonhole, their stances and conduct are never easily predictable. Christians are non-ideological persons in politics, and there is no other label appropriate for them than Christian. They know that no institution, no ideology, no nation, no form of government, no society, can heal the brokenness or prevail against the power of death. And though Christians act in this world and in particular circumstances in a society for this or that cause, though Christians take their stand and speak out specifically, they do so not as servants of some race or class or political system or ideology but as an expression of their freedom from just such idols.
(3) Radicalism: That means, of course, that the posture of Christians is inherently and consistently radical. (I do not use the word in any of its conventional economic or political connotations.) Christians are perpetually in the position of complaining about the status quo, whatever it happens to be. Their insight and experience of reconciliation in Christ are such that no estate in secular society can possibly correspond to, or much approximate, the true society of which they are citizens in Christ.
They are—everywhere, in every society—aliens. They are always, in any society, in protest. Even when a cause that they have themselves supported prevails, they will not be content but will be the first to complain against the "new" status quo.
For example, many Christians at the present time in the United States are deeply and actively involved in the struggle to achieve integration in American public life. Christians in that struggle, however, will characteristically be the first to recognize that integration of American society, as much as it is absolutely essential to the survival of this nation, is in no way to be confused with or identified with the kingdom of God. Integration, from a Christian point of view, must be counted as a modest, conservative, attainable, and necessary social and political objective in this nation at this time. It is by no means the measure of reconciliation among human beings in this world.
(4) Intercession: Christians are concerned, politically, for all people in all the diversity of problems and issues of public life. Characteristically, the sign of the inclusiveness and extremity of Christian concern is represented and embodied in their specific care for those who, in a given time in society, are the least in that society, for those whom all the rest have ignored or forgotten or cast out or otherwise have abandoned to death.
The venerable ministry of Christians for the poor since the very days of the New Testament, for instance, is not simply compassion for their endurance of unemployment or hunger or cold or sickness or rejection by society but is also, at the same time, a way of caring for all others in society who are not poor or who have some security from the assaults of poverty. Christians know that their passion for the world, their involvement in society, their stand in politics, and their witness in the present age encompass even their own enemies, even those whom they oppose in some specific controversy, even those who would deny the freedom of their witness, even those who hate them, and especially those who are threatened by Christian witness.
The Christian political witness, for the individual Christian and for the body of the church, means demonstrating in and to the world what the true society is by the living example of the society of the church.
The Christian political witness is affirming and loving the essential humanity of all in Christ in the midst of humanity's abdication of human life and despite the whole array of death's assaults against human life.
The Christian political witness is the audacity to trust that God's love for this world's existence is redeeming, so Christians are human beings free to live in this world by grace in all practical matters and decisions.
That is why the church of Christ is the only society in this world worthily named great.
Excerpted with permission from the forthcoming book, A Keeper of the Word: Selected Writings of William Stringfellow, edited by Bill Wylie Kellermann, © William B. Eerdmans Publishing Co., 1994.