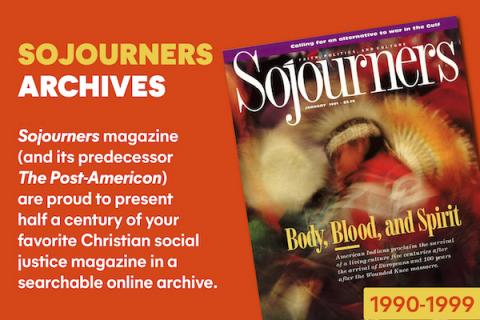 Boston.
A young man fleeing two pursuers with automatic weapons ducks into a church during a worship service, believing he will be safe there. His assailants don't even pause at the church door as they rush in and open fire. The choir stops singing, the preacher dives under the pulpit, and the congregation crouches beneath the pews as the sanctuary is sprayed with bullets.
Later, at a press conference, church leaders indignantly decry the blasphemous violation of holy thresholds and sacred space. But Azusa Christian Community's Eugene Rivers, an African-American street pastor, offered a different and prophetic word: "If the church won't go into the streets, the streets will come into the church."
Washington, D.C. All the Sunday morning talk shows focus on out-of-control violence in the United States. Nobody is safe, says a worried-looking David Brinkley. Desperate politicians and police chiefs talk crime bills and gun registrations and the president speaks of the breakdown of work, family, and community. What's most clear is that the political and media elites haven't got a clue as to what to do. Sunday night, the children living in the capital of the world's last remaining superpower go to bed to the sound of gunfire.
Palestine, eighth-century B.C.E. The prophet Isaiah delivers oracles to the children of Israel and to the neighboring Egyptians about the plight of their societies:
Their land is filled with silver and gold, and there is no end to their treasures; their land is filled with horses, and there is no end to their chariots. Their land is filled with idols; they bow down to the work of their hands, to what their fingers have made. And so the people are humbled; and everyone is brought low.
The consequence, the prophet continues, of a society's greed, social injustice, and idol worship is judgment in the form of spiritual degradation, violence, and the break-up of community. The people turn on one another, "they will fight, one against the other, neighbor against neighbor, city against city, kingdom against kingdom." The people's "spirit" will be "emptied out" (Isaiah 2 and 19).
I will never forget a conversation with some young Crips and Bloods in Watts after the Los Angeles eruption. When asked what the churches could do to help, an 18-year-old gang member looked us straight in the eyes and said: "We need the churches to lead us to the Lord." I now believe that in responding to this call the churches themselves will be led back to the Lord.
The escalation of violence on our nation's streets has reached such a crisis that perhaps only the religious community can adequately respond to it. Why? Because the cruel and endemic economic injustice, soul-killing materialism, life-destroying drug traffic, pervasive racism, unprecedented breakdown of family life and structure, and almost total collapse of moral values that have created this culture of violence are, at heart, spiritual issues.
The frightening disregard for human life among too many young people is a bitter reflection of the way these same young people have become so utterly disregarded by their society. The coldness of heart that now makes even veteran urban activists shiver is a judgment upon our coldness toward our poorest children. We reap what we have sown.
Neither liberal sociology nor conservative piety can begin to address the roots of this crisis. Neither government spending nor simplistic self-help slogans will suffice. What is called for now is that particular biblical combination of which the prophets most often spoke -justice and righteousness. Both the structures of oppression and the morality of personal behavior must undergo radical transformation. We need a change of heart and a change of direction not only among troubled urban youth, but for all of us.
Because spiritual transformation will be at the absolute core of the changes we so urgently need, the churches must help lead the way. But such a leadership role will first require some soul-searching on the part of the churches. At the recent National Congress of Black Churches' Consultation on Violence and Our Youth, in New Orleans, it was painfully acknowledged that "black children are drowning in their own blood on the streets...and the church has that blood on its hands."
This problem is too deep and our task too large to take it on by ourselves. We will need the help that comes "by faith." As another young man in that post-riot meeting in Watts said to us, "We've got some habits that only God can cure." That goes for all of us.
The contribution of faith communities to a social crisis always comes precisely at the point of perceived lost causes and hopeless circumstances. The writer of the Letter to the Hebrews says that "faith is the substance of things hoped for, the evidence of things not seen" (11:1). Or, as I like to paraphrase it, hope is believing in spite of the evidence then watching the evidence change. At critical historical junctures, faith makes possible the political imagination to find solutions to seemingly impossible social problems.
Hopeful signs are already apparent.
At the Kansas City, Missouri, "Gang Summit" in April 1993, participants came back again and again to the need for "spiritual power." All seemed to agree that political and economic programs, by themselves, were inadequate to the depth and enormity of the urban crisis. In addition, virtually all the "observers" and "advisers" invited to the summit by the 164 current and former gang leaders were from the religious community (see "A Time To Heal, A Time To Build," August 1993).
Those companions to the Kansas City summit have now begun to establish a church-based network in support of the gang truce movement. At a November 1993 meeting in Chicago, a support network for anti-violence initiatives was created from several denominations, national organizations, and local churches. Those participating in the network are Protestant, Catholic, evangelical, black, Latino, and white.
The network's vision is very practical. Local churches and congregations will be connected to youth organizations trying to end the violence in their neighborhoods and create positive community development. The network will seek to offer concrete resources in the area of conflict resolution. Local churches will be encouraged to apply the ancient idea of sanctuary in creating open and safe spaces in the midst of urban war zones.
The network's plan focuses primary attention on the necessity of community-based economic development as an alternative to lethal drug trafficking and as a way to solidify inner-city neighborhoods. And it takes responsibility for challenging ecclesiastical structures to make money and investment portfolios available for that crucial task. Church portfolios are currently worth $35 billion, but only a fraction of 1% of that is invested in community-based development.
This network calls upon local churches to become actively involved as advocates for young people in the criminal justice system. Churches will be enlisted in the very controversial task of keeping both drugs and guns out of their communities. Pastoral resources will be specifically applied to the epidemic of sexual irresponsibility and abuse, as well as to the central task of family reconstruction.
Any strategy that does not highlight the centrality of evangelism and spiritual transformation is doomed to failure. The evangelical agenda of the gospel must be made dramatically clear in the power of God to transform people's lives. The network will also make resources available to help local churches biblically interpret the "signs of the times" in our present crisis and to find the most faithful and practical ways to respond.
At such a critical moment, churches must also take the risk to become vitally involved in advocacy on behalf of policy issues that affect children, for example. At the same time, they must eschew the partisan and ego clashes that inevitably attend such a political crisis. Churches must take the moral high road that leads to grassroots action.
A clearinghouse is being established for the sharing of organizing models. In Kansas City the "Break and Build" program grew out of the Gang Summit and is turning young gang members toward peace and jobs. The Evangelical Lutheran Church of America is offering critical resources and technical assistance for new projects initiated by Barrios Unidos in Santa Cruz, California.
A powerful network of mostly black evangelical urban ministries, the Christian Community Development Association, is offering new hope for both evangelism and economic development in cities across the country, and the Catholic bishops' Campaign for Human Development is making possible myriad community organizing projects. At the Sojourners Neighborhood Center in Washington, D.C., at-risk inner-city children learn not only educational and conflict resolution skills, but also how to be "freedom fighters" in the tradition of their African-American forefathers and foremothers. A coalition of urban churches in Boston is offering a 10 point plan for citywide church mobilization that provides one concrete example of what could be done around the country (see "10 Point Plan to Mobilize the Churches," page 13).
The key to all these efforts is the willingness to move our faith into the streets. Neither big steeple churches nor storefront congregations can afford to wait on young people to come in their doors. We must go to them.
Recently, members of a prominent black Baptist church in Washington, D.C., spoke to me of how they sorely wanted to reach out to their neighborhood, but didn't know how.
"Almost none of us live here anymore. Maybe some of us should move back," offered one church elder. "The kids on the streets don't have the clothes to come to our church. They don't feel comfortable given the way we all dress," another woman said.
In response, the church decided on a December "come as you are" Sunday, when everyone would be encouraged to wear ordinary clothes and the youth who hang out on the streets outside would be invited in. "If it works, we might all have to change," noted a church member.
Jim Offult, a black Mennonite pastor near Chicago says:
It is a mini-MAD (mutual assured destruction) world at the 'hood level that has so many of our youth armed and arming to the teeth. More than a sign of strength, their armaments are rather a sign of their common fear of each other. They desperately want someone, somewhere, somehow to reach out to them and help them save themselves from themselves.
Offult proposes the establishment of "peace houses" in gang-ridden communities across the country. These facilities could become neutral "liberated zones" in neighborhoods, providing a place to work at conflict resolution in crisis situations and in an on-going way.
Rev. Jerry McAfee of the New Salem Missionary Baptist Church in Minneapolis comes from a long line of preachers and believes that churches are not buildings but people. As a participant in the Kansas City Gang Summit and the anti-violence support network, he has found his calling in the streets.
McAfee is convinced that, like Jesus, the church must "go through Samaria." Samaria is symbolic of the mean streets, violent turf, racial strife, and gang territory that "proper" religious people have avoided and gone around. When we go into Samaria, into the community, we will find that "the people who you are going around are your relatives."
In the face of escalating urban violence, we begin with the work of prayer and the fervent conviction that our children are worth fighting for. As hopeless as things may seem and as helpless as we may feel, we must claim the sight that comes by faith in believing that our kids are not a lost cause, that violence will not have the last word, and that as the Bible asserts, "death will have no dominion."
"This is our time," says Jean Sindab, a longtime church activist and a co-chair of the anti-violence support network that was formed in Chicago. Who else can better step into the breach that has grown up in our society? States Sindab, "It is a time for the church."
JIM WALLIS, editor of Sojourners, is co-chair of the church-based anti-violence support network.