The Sojourners magazine photo of the month (December 2012) features Rukimba Furaha—a mother of 8 children—who fled her home in the North Kivu province of the Democratic Republic of the Congo to escape a new outbreak of violence, according to Mennonite Central Committee (MCC). In September, Congo's Protestant leaders presented a petition from 1 million Congolese to the U.S. Congress urging religious, civic, and political leaders to call for an end to the violence. According to the United Nations, militants are fighting, in part, over access to mining operations for "conflict minerals," such as coltan (used in cell phones and laptops).
Learn more about the displacement of families in the Congo: Download this MCC podcast.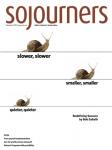 This appears in the December 2012 issue of Sojourners
Got something to say about what you're reading? We value your feedback!