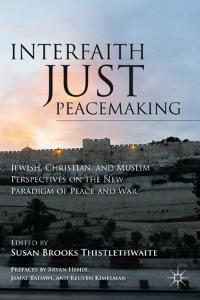 EARLIER THIS year, the Interfaith Partnership of metropolitan St. Louis held a public panel presentation addressing three Abrahamic religions—Judaism, Christianity, and Islam—on war and peace. Members of Interfaith Partnership and interested people from the community filled the chapel at Eden Theological Seminary to hear a Jewish scholar, a Muslim academic, and a Christian theologian (me) offer brief presentations on how our respective faith traditions value peace, as well as why, when, and how each religion views the use of violent force as sometimes morally justified.
During the question-and-answer period, I highlighted how in recent years both nonviolent and just war Christians have worked together on an approach, known as just peacemaking, for dealing with the underlying causes of war and thereby preventing its outbreak. As is often the case when I talk on this topic, most persons in the audience seemed unfamiliar with just peacemaking. After I attempted to clarify it further, someone asked the panel if other religious traditions had anything comparable to just peacemaking. The answer is yes, at least for Judaism and Islam, as shown in Interfaith Just Peacemaking, edited by Susan Brooks Thistlethwaite, a theologian and ordained minister in the United Church of Christ.
The 10 proactive practices that have been empirically proven as realistic and effective ways for preventing many wars form the framework for Interfaith Just Peacemaking. They were first identified in Just Peacemaking: The New Paradigm for the Ethics of Peace and War, edited by theological ethicist Glen H. Stassen. That book's 23 contributors (scholars and practitioners from multiple disciplines—theology, political science, psychology, and history—and from pacifist and just-war perspectives) shared concerns about how just war has devoted insufficient attention to dealing with catalysts that lead to conflict (and not making war truly a last resort) and about how pacifism has failed to offer clear guidance about practical alternatives to war.
The just peacemaking practices they identified served to address those concerns: supporting nonviolent direct action; taking independent initiatives to reduce threats; using cooperative conflict resolution; acknowledging responsibility for conflict and injustice (and seeking repentance and forgiveness); advancing democracy, human rights, and interdependence; fostering just and sustainable economic development; working with emerging cooperative forces in the international system; strengthening the United Nations and other international efforts for cooperation and human rights; reducing offensive weapons and the weapons trade; and encouraging grassroots peacemaking groups and voluntary associations.
The advocates of just peacemaking emphasize the importance of being able to translate its practices between religious circles and the secular domain of policymakers, nongovernmental organizations, etc. With Interfaith Just Peacemaking, moreover, the polyglot paradigm of practices are discerned and described not only within the sacred text and tradition of Christianity but also within those of Judaism and Islam. Twenty-seven religious leaders and scholars contributed to this effort, with each one of the 10 chapters devoted to one of the 10 just peacemaking practices, each beginning with a brief definition and introduction to that practice, followed by reflections from a Jewish, a Christian, and a Muslim author assigned to that chapter.
While acknowledging how these religions have factored into many of the problems we face today and that there are "problem passages in our own traditions," the contributors explore and elevate resources within their respective traditions, providing numerous examples especially at the grassroots (for example, Rabbis for Human Rights and Muslim Abdul Ghaffar Khan's 100,000 nonviolent mujahidin, the Khudai Khidmatgar, who helped persuade the British to leave the Indian subcontinent).
Because these practices overlap and interrelate, there is some repetition in what the many contributors write. Discussion or study questions would be helpful, too, since I think this book is important reading for an educated general audience, including local synagogue, congregation, and mosque study groups—indeed, it would be wonderful if there were joint reading groups involving members from all three of these Abrahamic groups in towns and cities everywhere!

Tobias Winright is associate professor of theological ethics at St. Louis University and co-author of After the Smoke Clears: The Just War Tradition and Post War Justice (Orbis, 2010).