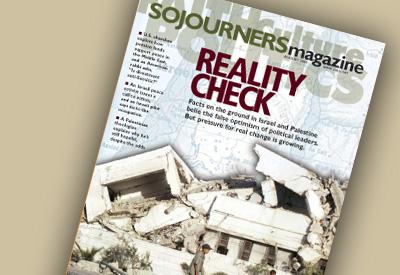 "Laser-beam" divestment from a specific company - such as Caterpillar, which is letting the government of Israel use its products explicitly for the demolition of human rights (in the physical form of homes) - is not necessarily anti-Semitic or hostile to the existence of Israel in itself.
However, some calls for using boycotts or divestment as pressures on Israel have quickly degenerated into becoming anti-Semitic or anti-Israel-as-a-society, falling into the rhetoric of "Israel is totally wrong/the Jews are totally wrong." For example, in the discussions of the original Presbyterian decision to explore (not call for) a divestment from maybe only one U.S. company, Caterpillar, much of the Left instantly trumpeted "Presbyterians will divest from Israel."
But interestingly, so did parts of the official American Jewish establishment. It was as if there were a de facto conspiracy between the two political groupings to define any critique of a specific Israeli action, or even any specific action of a company doing business with Israel, as an attack on Israel itself, as a society.
Many calls for divestment, even from specific companies, have used the rhetoric that divestment from South African apartheid is the model - not, for instance, the boycott of nonunion California grapes a generation ago. The grape boycott helped change policy precisely because it did not try to delegitimize a whole society. Neither the pro-union nor pro-employer public lost its head or hardened its heart.
My own assessment is that the way in which much of the divestment campaign has been conducted bespeaks an exercise in quasi-private purity rather than a serious effort to change public policy. The campaign wastes time, money, and energy that could have been and could still be used in far more productive ways to bring peace.
For example, I earnestly wish the whole Presbyterian effort put into the Caterpillar divestment exploration had been directed instead to making sure that every Presbyterian church in America had brought a paired set of one Israeli and one Palestinian to explain the Geneva Initiative (the jointly drafted effort toward an ethical and practical peace treaty) and to urging Presbyterians to lobby Congress in its favor. That could have changed official U.S. policy, setting forth a legitimate alternative, criticizing both Israeli government policy and Palestinian behavior.
What I am suggesting is that both those critics of Israel who actually want to bring about policy change rather than simply magnify and globalize their critique, and those of us who love and want to defend Israel against unwarranted and dangerous attacks while ending its self-destructive and ethically destructive occupation, should be encouraging precision in both our criticisms and our defenses.
I know how hard it is - especially on this question, so fraught with fear, love, anger, grief - to express critical precision rather than all-out attack and all-out defense. But I think that is what a religiously and spiritually rooted politics should call on us to do: to identify wrong actions, and oppose them, not to denounce whole groups or nations. That is one of the deep meanings of nonviolence.
Rabbi Arthur Waskow was director of The Shalom Center (www.shalomctr.org) and author of Godwrestling: Round 2 when this article appeared.