David Batstone and Bill Smith's dialogue on pop culture ("What's Faith Got to Do With It?" June 1994), infused Sojourners with the first real sign of life I've seen in months. True to their stated intentions, the authors made their medium into their message: As I read the article, with its spliced-in quotes and photos, I could hear, smell, and even taste the rhythmic "beat" of the message.
Batstone and Smith's ingenious writing highlighted the fact that most other Sojourners articles merely respond to pop culture, rather than create it or engage in it. Jim Wallis and his crew are indeed "getting up to dance when the song is nearly over"; in contrast, Batstone and Smith are choreographing their own music in resistance against the tired formulas of so-called progressive Christian media. Whereas Wallis repeatedly attempts to "take spirituality to the streets," Batstone and Smith present a novel approach by merging the streets with a dynamic dance of spirituality. Such an approach is essential if Sojourners wants to become a vital, truly progressive magazine.
Stacia M. Brown
San Francisco, California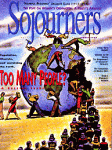 This appears in the August 1994 issue of Sojourners
Got something to say about what you're reading? We value your feedback!