Leah Kozak is a member of South Bronx Unite and Associate Director at The Micah Institute at New York Theological Seminary. You can follow her on Twitter @leahkozak.
Posts By This Author
Environmental Justice, Inclusiveness, and Mother Earth
, 04-17-2015
The prophets' preoccupation with justice and righteousness has its roots in a powerful awareness of injustice. That justice is a good thing, a fine goal, even a supreme ideal, is commonly accepted. What is lacking is a sense of the monstrosity of injustice. Moralists of all ages have been eloquent in singing the praises of virtue. The distinction of the prophets was in their remorseless unveiling of injustice and oppression, in their comprehension of social, political, and religious evils. —Abraham Joshua Heschel, The Prophets
Injustice anywhere is a threat to justice everywhere. We are caught in an inescapable network of mutuality, tied in a single garment of destiny. Whatever affects one directly, affects all indirectly. —Martin Luther King, Jr.
According to the U.S. Environmental Protection Agency, environmental justice is defined as:
The fair treatment and meaningful involvement of all people regardless of race, color, national origin, or income with respect to the development, implementation, and enforcement of environmental laws, regulations, and policies.
As we consider this definition, and look around our communities, do we find this fair treatment taking place? Are we aware of how economic and environmental decisions are made? Many times it can become so overwhelming that we think it best to leave it to the experts. Unfortunately, this can lead to exploitation, as discrimination typically takes place in poor and underserved communities where people may not understand their rights, or they choose not to fight back out of fear. As we dig deeper and the shackles are removed, we begin to see how economic and environmental justice are connected and how this exploitation is directly related to incentives like government funding, tax breaks, and land grabs that favor corporations over human beings and the environment. Does the end result benefit all God's creation or just a wealthy few?
Environmental Racism and Health Disparities in the South Bronx
02-18-2015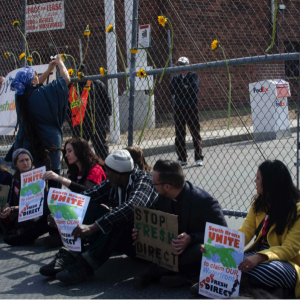 "An individual who breaks a law that conscience tells him is unjust, and who willingly accepts the penalty of imprisonment in order to arouse the conscience of the community over its injustice, is in reality expressing the highest respect for the law" —Martin Luther King, Jr.
Last year on a crisp afternoon in March, I was one of nine people arrested by the NYPD and taken away to the local precinct for processing. My crime? Attempting to plant detoxifying sunflowers on public brownfield land on the South Bronx waterfront in New York City.
Earlier in the day, more than 100 residents, faith leaders, organizations, friends, and allies came together to protest the proposed relocation of the online grocer FreshDirect to a residential neighborhood in the South Bronx. After a jubilant and joyous interfaith reflection and prayer vigil outside the entrance to the waterfront location, security guards refused to let us cross the gate, so we sat in front of it in protest — a peaceful and non violent act of civil disobedience.
Our coalition, South Bronx Unite, works to improve and protect the social, environmental, and economic future of the South Bronx in New York City, located in the poorest congressional district in the country. For three years we have been fighting to stop FreshDirect from receiving more than $100 million in subsidies and incentives to build a diesel trucking distribution center on public land along the Bronx Kill Waterfront.